Sitcom Animator Is Seeding Its Torrent

Added: Saturday, January 15th, 2011
Category: Bit Torrent Freedom > The Industries Of Records, Gaming, Software, Movies
Tags:ET, p2p, Torrent, Piracy, Peer To Peer, Network, Hackers, Internet, BitTorrent, Google, utorrent, bitcomet, extratorrent, 2010, www.extrattorrent.com

A new animated sitcom named "Bob's Burgers" first aired on Fox two weeks ago. The show claims to have almost 10,000,000 viewers, receiving the highest rates in the season, thus displaying a very decent start. Of course, BitTorrent community showed plenty of interest too, and (surprisingly) even from someone actively involved in the show's production. It turned out that one of the sitcom's animators has been seeding the pilot episode on Demonoid, and was proud of it!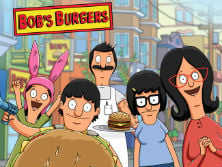 Another TV-season started with the launch of some new series. Among the list there is an animated show "Bob's Burgers", aired on Fox. Like any other TV-show, the pilot episode of the sitcom ended up on P2P, where one of its downloaders claims to stand out above the rest.

Discussion at Demonoid BitTorrent tracker revealed that one of the members nicknamed XIIIth has some special relationships with "Bob's Burgers". Apart from all other downloaders, he claimed to be involved in the production of the show. Several hours after the torrent was uploaded to Demonoid, XIIIth admitted that it's very nice to hear that users liked the show and expressed positive feedback. He also promised to keep seeding to support his work.

Although it's not hard to claim to be an animator of whatever, this person turned out to be real, so it got very interesting. All other members of Demonoid were really surprised and honored that one of the creators decided to approve of their actions. Indeed, usually creators of such big productions express negative reaction towards illegal downloading. On the contrary, XIIIth promised that as soon as 13 more episodes for the show come out and are given to everyone at the studio, everything will turn out and the show will gain more audience.

It's undoubtedly very unusual that the production team member of such a popular sitcom approves of torrenting. The entire BitTorrent community welcomed such an open stance of XIIIth, and it's not surprising that they got very curious about his identity, just in case.

Everyone knows that it is very hard to conceal something in the web today, and it took just a couple of Google searches to reveal that both the name and the birthday of XIIIth are those of an animator featured in the credits. In other words, the story seems to check out, with the guy getting applauds for making the show available – in more ways than one.


Thanks to TorrentFreak for providing the source of the article
By:
SaM
January 15th ,2011
Posted by:
Date:
Saturday, January 15th, 2011
1

| | |
| --- | --- |
| posted by (2011-01-15 10:06:43) | |

| | |
| --- | --- |
| | and for those who haven't seen it....it's a very funny show. thanks SaM for the read |
2

| | |
| --- | --- |
| posted by (2011-01-16 01:13:18) | |

| | |
| --- | --- |
| | Agreed it's funny, it needs time to develop a good fan base. It's looking like a hit. |
3

| | |
| --- | --- |
| posted by (2011-01-18 16:55:55) | |

| | |
| --- | --- |
| | awesome article...21st century's promotion idea...gr8 |
Articles Search
Most Popular Stories
Articles Categories
Articles Tags