The Turks Suspected Their President of Piracy

Added: Monday, February 14th, 2011
Category: Recent Headlines Involving File Sharing > Current Events
Tags:ET, p2p, Torrent, Piracy, Peer To Peer, Network, Hackers, Internet, BitTorrent, Google, utorrent, bitcomet, extratorrent, 2010, www.extrattorrent.com

Twitter has been recognized as a great medium for many world leaders, which helps them to keep the people informed on both their thoughts and actions. However, sometimes it can lead to embarrassing situations. For example, yesterday evening the President of Turkey Abdullah Gül tweeted some interesting facts – he said that he enjoyed watching the movie "The King's Speech" with his wife at home. If you didn't get what is so interesting in that status update, here's the hint: the movie in question hasn't premiered in the country's theaters yet, and isn't available on DVD anywhere else.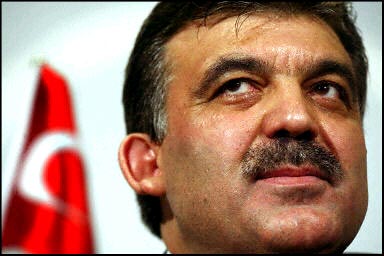 Abdullah Gül used to be a Prime Minister and Minister of Foreign Affairs in his country, after which he was elected as Turkish President in 2007. He likes to keep in touch with the public, for which he began using Twitter a while ago. Having a verified account, the President occasionally tweets his thoughts related to politics, and sometimes shares more personal thoughts.

Recently one of his tweets particularly caught the attention of his almost 200 thousand followers. When the president wished everyone a good weekend, he mentioned watching "The King's Speech" movie at home the other day.

Actually, Abdullah Gül wasn't the only one who enjoyed the movie, since with 12 Oscar nominations the film is believed to be one of the best pictures of 2010. Nevertheless, the message resulted in an uproar among the followers due to the question how the President could have watched the movie at home without infringing the copyright legislation.

The Oscar-nominated movie isn't available on DVD anywhere in the world yet. Moreover, it hasn't even premiered in the country. The only source of a good copy of the movie is file-sharing networks like BitTorrent and Usenet, along with physical bootleg DVDs sold on the streets. That is the fact that made many of the President followers conclude that he is possibly a movie pirate. In fact, there's no other way that he possibly could watch the "The King's Speech" at his home in Turkey.

Lots of people responded to the tweet, asking the President where he had downloaded the film, and what file-sharing network he prefers. Although Gül hasn't replied to the questions yet, the chances are that his staff simply managed to get an exclusive copy of the film from the producers to show a private screening to the President.

Thanks to TorrentFreak for providing the source of the article

By:
SaM
February 14th,2011
Posted by:
Date:
Monday, February 14th, 2011
1

| | |
| --- | --- |
| posted by (2011-02-14 17:09:30) | |

| | |
| --- | --- |
| | lol!! This post was funny! |
2

| | |
| --- | --- |
| posted by (2011-02-14 17:24:00) | |

| | |
| --- | --- |
| | lol, gotta love politics |
3

| | |
| --- | --- |
| posted by (2011-02-14 18:19:38) | |

| | |
| --- | --- |
| | The last sentence in the last paragraph is the first thing that came to my mind after reading the article's title, lol. I mean that's how rich & famous ppl view new movies on their property in built in home theaters, as well as those invited to the White House for viewing w/ the prez. We all know they couldn't possibly go to the mall to catch a flick w/ us average folks, lol. They might get gum on their shoes or popcorn tossed in their hair:O |
4

| | |
| --- | --- |
| posted by (2011-02-14 20:56:51) | |

| | |
| --- | --- |
| | Same here People in power can get movies before us common ppl and if he did pirate it he's a world leader |
5

| | |
| --- | --- |
| posted by (2011-02-14 23:43:01) | |

| | |
| --- | --- |
| | whoopy lets hopes MPAA etc kills/ sues / jails the thief hahaha |
6

| | |
| --- | --- |
| posted by (2011-02-15 17:51:28) | |

| | |
| --- | --- |
| | Next quote from his highness lol "how did that 9mm hole get in my foot......." LMAO - hey everyone if you get a letter from the MPAA just explained that you were following the example of world leaders...... |
7

| | |
| --- | --- |
| posted by (2011-02-15 22:49:22) | |

well he did replay here is what he said this is what my sources say he said= The president's answer was very vague. He said that he would not receive an illegal movie.

so do this mean the TPB are gonna move there serves there

If the president has a relaxed attitude to file sharing services, so it is perhaps not surprising that Turkey does not accede to the Anti-Treaty Anti-Counterfeiting Trade Agreement (ACTA). Treaty which ComON has regularly written about, is about to be implemented in major countries like USA, EU countries, Mexico, Canada, Japan, Australia and Singapore. The new rules will strengthen and unify the fight against copyists and netpirate.

TorrentFreak wonder now whether the president will consider removing its blockade of file-sharing service Pirate Bay.
Articles Search
Most Popular Stories
Articles Categories
Articles Tags