US Authorities Mistakenly Seized 84,000 Innocent Domains

Added: Thursday, February 17th, 2011
Category: Bit Torrent Freedom > The Right To Share
Tags:ET, p2p, Torrent, Piracy, Peer To Peer, Network, Hackers, Internet, BitTorrent, Google, utorrent, bitcomet, extratorrent, 2010, www.extrattorrent.com

The US Authorities has yet again seized a few domains, proudly announcing of the shutdown of websites connected to counterfeit goods and child porno. However, they conveniently forgot to mention that one of the targeted domain names belongs to a DNS provider, which led to 84,000 sites being mistakenly accused of child pornography distribution.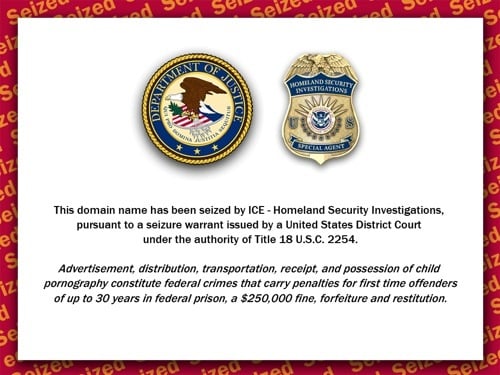 The ICE's Cyber Crimes Center has made a huge error during another domain names seizure campaign. A week ago, thousands of website owners were very surprised to see a banner on their domains, saying that distribution of child porno is a federal crime.

Just like they did many times before, ICE persuaded a District Court judge to sign a seizure warrant. Then the domain registries were forced to point the accused domains to a server hosting the banner. But this time they somehow seized the domain of a large DNS service provider, by mistake.

Mooo.com belongs to the DNS provider FreeDNS, which is considered the most popular shared domain at afraid.org. The shutter of this domain name led to a massive 84,000 subdomains being wrongfully seized too. So, all the websites were redirected to a shameful banner.

The founders of FreeDNS were taken by surprise, but quickly released the statement on their website, assuring their clients that they have never allowed this type of abuse. 2 days passed before the domain name seizure was reverted to let the subdomains slowly start linking to the old websites again. Nevertheless, since the DNS entries have to propagate, the banners disappeared completely only in 5 days.

Most of the affected domains are either personal websites or sites of small businesses. This damaging accusation, of course, scared and upset all of the website's owners, who had to go out to assure their visitors that their businesses weren't involved in the alleged crime.

The ICE never revealed where this fatal error was made, nor who was responsible for it – in fact, they never mentioned the case. Press release that went out a few days ago, was only telling about seizure of 10 domain names. Though the initiative to fight counterfeit products and child pornography is a noble one, the failure in question proved again that the seizure process is flawed. In fact, such mistakes wouldn't have happened if only the US government allow for due process to take place.

Thanks to TorrentFreak for providing the source of the article
By:
SaM
February 17th,2011
Posted by:
Date:
Thursday, February 17th, 2011
1

| | |
| --- | --- |
| posted by (2011-02-17 23:53:13) | |

| | |
| --- | --- |
| | now we have a clear case of slander and libel; I really hope these 84,000 domain web sites sue the crap out of ICE, the Judges, and anyone else connected in a class action law suit.. |
2

| | |
| --- | --- |
| posted by (2011-02-18 04:43:59) | |

| | |
| --- | --- |
| | If they all sue in a class action or individual LIBEL lawsuits (Slander refers to SPOKEN statements) it could prove a VERY EXPENSIVE exercise for Homeland Security and the Justice Department, since they're both listed on the offending message (The individual judges should be safe, as they can only proceed on the evidence they're provided. If the evidence is faulty they can't be held accountable). If each site was awarded only $1000 that totals 84 MILLION in damages. If you up that to 10,000 or 100,000 for the businesses it could account for several HUNDRED million or more dollars. Won't THAT screw up the federal budget for the next few years! |
3

| | |
| --- | --- |
| posted by (2011-02-19 06:50:23) | |

articled cleaned
no disrespecting one another no calling names swearing etc..
if you want to abuse each other do it via pm or do it at torrent freak dont do it here
if caught doing this again accounts will be blocked with no reason other then for me to know about
4

| | |
| --- | --- |
| posted by (2011-02-22 06:21:10) | |

What happened to innocent until proven guilty? 84,000 innocent parties publicly slated as purveyors of child abuse and child pornography. Have any of these committed suicide in the 5 days or so the notices were posted WITHOUT THEIR PERMISSION on mostly PRIVATE websites, or how many marriages have been ruined, or father daughter/ father son relations soured irredeemably?

There MUST be some PROPER oversight and control to ensure that NOTHING like this can EVER happen again . . .
Articles Search
Most Popular Stories
Articles Categories
Articles Tags