Chaos created by a Pirated Android App

Added: Sunday, April 3rd, 2011
Category: Recent Headlines Involving File Sharing > Ridiculous Criminal Trials
Tags:ET, p2p, Torrent, Piracy, Peer To Peer, Network, Hackers, Internet, BitTorrent, Google, utorrent, bitcomet, extratorrent, 2010, www.extrattorrent.com

Recently, a pirated android app created a chaos in Android Marketplace and the android apps users. "Android.Walkinwat" is the name of that app which is free to download.

The vary free pirated app is similar to a legit app, "Walk and Text", which is available at official Android Marketplace for $1.54. This legit app enables user to watch live feed using the build-in-camera of the phone itself just after texting.
The pirated app turns into a "Trojan Horse" as soon as you install it in your phone and just after that the pirate is redirected to the legit app in the Android Marketplace. The main task of "Trojan Horse" starts when it sends a text message confidentially to the all the contacts present in the phone.

Text Message: ~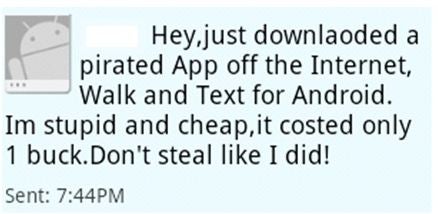 Just after that the user gets this message: ~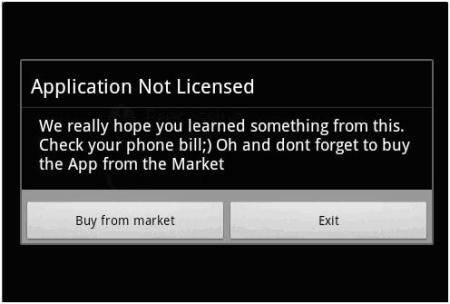 Later, a post was added in a blog by AVAST from Czech Republic as a conclusion that all the data from "Android.Walkinwat" app was sent to URL of Incorporate Apps chief executive, Georgi Tanmazov, the developer of "Walk and Text" app also. There were so many rumors that flew around for much time that the pirated app steels the private info as well as the phone numbers and much more. But later all these rumors were called off false by Incorporate Apps.

Its website states, "We are looking into ways of filing a lawsuit against AVAST from CZECH REPUBLIC, company which has a vast interest in spreading fear in favor of their products! We are denied contact to any officials from that company and our calls are being blocked or ignored."
By:


EMUworld


April 3nd,2011
Posted by:
Date:
Sunday, April 3rd, 2011
1

| | |
| --- | --- |
| posted by (2011-04-03 23:44:30) | |

| | |
| --- | --- |
| | funny |
2

| | |
| --- | --- |
| posted by (2011-04-04 04:02:54) | |

| | |
| --- | --- |
| | lol |
3

| | |
| --- | --- |
| posted by (2011-04-04 09:23:37) | |

| | |
| --- | --- |
| | "downlaoded" lol |
4

| | |
| --- | --- |
| posted by (2011-04-04 10:42:48) | |

| | |
| --- | --- |
| | It's not entirely clear from the article but it sounds like the pirated app was downloaded directly from the Android Market? Or is it repackaged from a third party site? Or it was made to look like "Walk and Text" to trick people? Sorry, but the English is sometimes bad in these articles so it's not always clear. I know English isn't your first language so I'm not complaining though. Most of the time you do a pretty good job but occasionally words are in the wrong place and it's hard to tell. |
5

| | |
| --- | --- |
| posted by (2011-04-04 11:26:22) | |

Sue away; but many of the anti malware companies are saying the same thing; it steals your private info... Of course if you downloaded it's your fault. I guess anti malware apps. are gonna start coming out for the android OS now..


Fake pirated Walk and Text Android app embarrasses pirates and steals sensitive data
walk and talk pirate SMS
Symantec is reporting that they have detected a malicious Android app doing the rounds on file-sharing sites in the US and Asia. The fake application impersonates a pirated version of an app called Walk and Text, which lets you overlay a keyboard on a live feed from your phone's camera to avoid crashing into things while walking and texting, and is currently available in the Android Market for less than $2.

When the fake app is launched it throws up a simulated dialog showing the Walk and Text app being 'cracked,' but actually what it's doing is collecting your private information including your IMEI, phone number, username, and scanning your address book. The virus then attempts to send that information back to a remote server, but also sends out an SMS to everyone in your address book with the text shown above and a warning that the application isn't licensed with links to buy the real thing:

Trojan warning

Symantec has dubbed the malicious application as the Android.Walkinwat Trojan and categorised it with a 'Very Low' risk level 1. While we can agree with the developer's sentiment, we can't condone their actions; but if you get hit by this Trojan and a nasty invasion of privacy, you've only got one person to blame.
6

| | |
| --- | --- |
| posted by (2011-04-04 14:47:06) | |

surely creation and deliberate dissemination of virus or trojan type files is a criminal offence?
Regardless of the initial cause of the infection, the publisher is responsible for the content.

If you put cyanide in some donuts, and then left them out, but put a sign on it saying stolen donuts, dont eat! would you be responsible for the death of anyone who ate them?
7

| | |
| --- | --- |
| posted by (2011-04-04 15:29:39) | |

| | |
| --- | --- |
| | haha that sux |
8

| | |
| --- | --- |
| posted by (2011-04-04 15:30:31) | |

| | |
| --- | --- |
| | @ number 4... just download the app and try it yourself.. let us all kno |
9

| | |
| --- | --- |
| posted by (2011-04-04 23:14:48) | |

| | |
| --- | --- |
| | If I am reading this right it sounds like the makers of the legitimate app. produced the pirate app to circulate in order to collect data. Kind of makes you wonder who really is making the trogens huh |
10

| | |
| --- | --- |
| posted by (2011-04-05 04:04:58) | |

I have spoke with the people who developed the original app, and they deny that the fake one is anything to do with them. They say that they have only had negative reactions from this, and that they dont have the credibility in the 'scene' to have distributed the file.. (anyone know who uploaded it btw?)
They also say that they actually filed a DMCA report as soon as they discovered the fake 'cracked' version with the trojan being torrented.
Without having access to the bad version it's pretty much impossible to say if it came from them or not, but now the media s**tstorm has kicked off about it, they are trying to distance themselves from the situation any way they can.
11

| | |
| --- | --- |
| posted by (2011-04-05 17:46:09) | |

| | |
| --- | --- |
| | so in other words their plan backfired |
Articles Search
Most Popular Stories
Articles Categories
Articles Tags