RIAA Proposed New Legislation in California

Added: Friday, May 20th, 2011
Category: Recent Headlines Involving File Sharing > Current Events
Tags:ET, p2p, Torrent, Piracy, Peer To Peer, Network, Hackers, Internet, BitTorrent, Google, utorrent, bitcomet, extratorrent, 2010, www.extrattorrent.com

Recently proposed Bill SB 550 would let the police inspect optical disc manufacturing facilities without any warrant in order to make sure they are not manufacturing pirated CDs.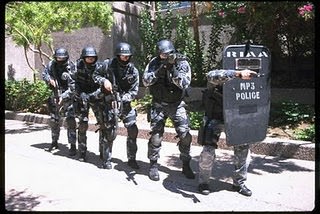 Everyone knows that the RIAA is always trying to provide law enforcement with new abilities to protect the outdated business model of the music industry. Today it went as far as to propose a new legislation in California, which would actually suspend the 4th Amendment.

Senator Alex Padilla has already submitted Bill SB 550 earlier in May, which would give law enforcement the power to carry on warrantless searches of the CD and DVD manufacturing facilities in the state. The bill reads that the police officers would be authorized to perform inspections at commercial optical disc manufacturing facilities within regular business hours with no warrant, in order to verify compliance with the provisions. In addition, the police would have the right to seize any optical disc which is suspected to be produced in violation of the provisions.

If it wasn't enough, the proposed legislation would also allow the rights owners' outfits to assist the police with their warrantless searches. The draft of the law stipulates that any inspection may be conducted with help of a professional outfit appointed by law enforcement.

Senator Padilla claimed that the anti-piracy legislation is essential for the common reasons, including saving jobs and protecting the content industry. However, Senator didn't specify why copyright violation was a good enough reason to suspend the 4th Amendment. Instead,
Senator Padilla keeps insisting that the problem of unauthorized mass reproduction of copyrighted works caused serious damage to the industry and state. According to the statistics, in 2010, more than 820,000 unauthorized CDs were seized by the police in California. Meanwhile, bootleg disks undermine the economy of the state and its role as a global leader in music and film industry. Copyright infringers are stealing revenue from content creators, retailers, and the country's entertainment sector.

Although all these claims may be sound, stealing rights away from the citizens in order to protect a private economic interest can hardly be considered a right way to address the issue. Anyway, the operations targeting CDs manufacture will likely not have any impact on the piracy rate, since no-one buys CDs these days.
By:
SaM
May 20th,2011
Posted by:
Date:
Friday, May 20th, 2011
1

| | |
| --- | --- |
| posted by (2011-05-20 18:49:58) | |

| | |
| --- | --- |
| | "Anyway, the operations targeting CDs manufacture will likely not have any impact on the piracy rate, since no-one buys CDs these days" .... lol |
2

| | |
| --- | --- |
| posted by (2011-05-20 20:26:32) | |

| | |
| --- | --- |
| | Yes, LOL..... How can they ever think they will have an impact on Piracy when they continue to lag 5 years behind current technological trends?? |
3

| | |
| --- | --- |
| posted by (2011-05-20 22:47:32) | |

| | |
| --- | --- |
| | Your missing the real point. This is an attempt to circumvent your fourth right under the constitution. |
4

| | |
| --- | --- |
| posted by (2011-05-21 01:42:06) | |

| | |
| --- | --- |
| | Yes unreasonable searchs without warrants! This is what this country needs most, people who at every turn try to take your fundamental rights away from you! And at the excuse of piracy? Please don`t fall for that bs! If this law passes we should all just roll over and take it up the ass! Why do we even have amendments? |
5

| | |
| --- | --- |
| posted by (2011-05-21 01:52:09) | |

if they get away with circumventing the 4th amendment here, then it just opens the door to do it again any time they say that they have 'legitimate' reasons to do so. It's the public admission of the beginning of the end of the american constitution.
I'm glad I live somewhere that dont pretend that we have any rights. they cant take away what you dont have!
6

| | |
| --- | --- |
| posted by (2011-05-21 04:38:52) | |

| | |
| --- | --- |
| | if i had a bussines and the polcie came in without a warrant i wld shoot em dead.....trespassing in the state i live is cause to shoot only if you feel your life is in danger....men with guns entering my property seems threatning to me....this country just keeps raping our rights im sick of it. look at the southern poverty law center what a joke...it's time for us to wake up and violate some civil rights take this country back...that monkey in office does us no good, anyone from the same species as the pres has no right to be here unless under boots or in the wind! |
7

| | |
| --- | --- |
| posted by (2011-05-21 20:22:10) | |

| | |
| --- | --- |
| | Racial slurs have nothing to do with the competency of the pres. If you knew anything about legislation and rights you would realize how ridiculous your statement is. Indeed, they keep pushing and they keep taking. Don't we? It's a never ending war that funds political revenues along with recording industries while creating more loopholes that will be used for different purposes in the near future. Like drugs, it benefits both parties and will never end. |
8

| | |
| --- | --- |
| posted by (2011-05-22 20:32:22) | |

"There are two types of expectations of privacy:
A subjective expectation of privacy is an opinion of a person that a certain location or situation is private. These obviously vary greatly from person to person.
An objective, legitimate or reasonable expectation of privacy is an expectation of privacy generally recognized by society.

In United States constitutional law the expectation of privacy is a legal test which is crucial in defining the scope of the applicability of the privacy protections of the Fourth Amendment to the United States Constitution. It is related to, but is not the same thing as a right of privacy, a much broader concept which is found in many legal systems

The Fourth Amendment (Amendment IV) to the United States Constitution is the part of the Bill of Rights which guards against unreasonable searches and seizures, along with requiring any warrant to be judicially sanctioned and supported by probable cause. It was adopted as a response to the abuse of the writ of assistance, which is a type of general search warrant, in the American Revolution. Search and arrest should be limited in scope according to specific information supplied to the issuing court, usually by a law enforcement officer, who has sworn by it."
9

| | |
| --- | --- |
| posted by (2011-05-22 20:33:40) | |

| | |
| --- | --- |
| | The right of the people to be secure in their persons, houses, papers, and effects, against unreasonable searches and seizures, shall not be violated, and no Warrants shall issue, but upon probable cause, supported by Oath or affirmation, and particularly describing the place to be searched, and the persons or things to be seized. |
10

| | |
| --- | --- |
| posted by (2011-05-22 20:40:57) | |

| | |
| --- | --- |
| | Yes its illegal to copy and sell DVD media but that doesn't give ANY the right to go above the constitution. This just shows how much influence private corporations have into influencing government into their agenda. The people ELECTED or APPOINTED into public office are there with the citizens best interest and not for the people that contribute big money into their campaigns. This just shows how corrupted our government is and how dumb people are letting this happen, if people stood up, this would not be happening. |
11

| | |
| --- | --- |
| posted by (2011-05-23 04:20:48) | |

| | |
| --- | --- |
| | my business hours are from 9 am to 9.01 am lol |
12

| | |
| --- | --- |
| posted by (2011-05-24 02:05:00) | |

| | |
| --- | --- |
| | C0ldFire, google search Kentucky vs. King. Our 4th amendment rights will soon be history. |
13

| | |
| --- | --- |
| posted by (2011-05-24 12:50:16) | |

| | |
| --- | --- |
| | Don't forget about the Patriot Act. That was the first step. Just say somebody is a terrorist, and they don't have any rights. Luckly I think this is gonna hit closer to home, so hopefully more people wake up. |
14

| | |
| --- | --- |
| posted by (2011-05-25 17:35:44) | |

| | |
| --- | --- |
| | this country has hit the crapped head on..bush had a hard on for war and made the patriot act, now we have walking wind chime in office....california is just the tip of the ice berg...nest thing they'll do is search houses instead of busissness....every pc repair shop has boot leg material, lol i paid the one in my own town 30 $ to install a new copy of windows xp...come to find out they got it from the pirate bay...so if they can do it and not get caught so can norm average citizens...cali is turning into a liberal deboccle...piracy is more important then the guys pumping meth into the streets...digital piracy has yet you to kill some one unlike drugs but the liberals in office beg to differ i guess |
Articles Search
Most Popular Stories
Articles Categories
Articles Tags