Another Round of Domain Seizures Under Way

Added: Thursday, May 26th, 2011
Category: Bit Torrent Freedom > The Right To Share
Tags:ET, p2p, Torrent, Piracy, Peer To Peer, Network, Hackers, Internet, BitTorrent, Google, utorrent, bitcomet, extratorrent, 2010, www.extrattorrent.com

US Homeland Security's Immigration and Customs Enforcement go on with their seizure campaign, shutting down at least eight more websites alleged of copyright violation. So, "Operation in Our Sites" campaign continues, but again without much of the result, because a few of the freshly seized sites have already reappeared online.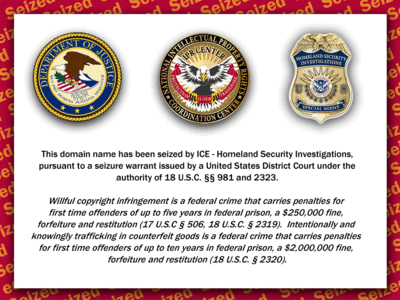 It has been for almost a year now that the American authorities seize domain names of the online services suspected of copyright violation within the frames of the ICE's "Operation in Our Sites" campaign. This week Homeland Security's Immigration and Customs Enforcement has started a fourth round of domain seizures, thus proving that the authorities won't get any letup in sight when fighting copyright infringement in the Internet.

"Operation in Our Sites" campaign started in July 2010, with only 8 websites being seized within the first round. However, by November the number of the targeted services surpassed 70. The third round took place this year and targeted eighteen sites, and finally the last one started this week and thus far resulted in seizure of only 8 online services, including http://re1ease.net, http://dvdscollection.com, and http://watchnewfilms.com.

What is going on within the "Operation in Our Sites" campaign is an illustration of what will come if the suggested "PROTECT IP Act" is passed into legislation. The new law would provide the Department of Justice and rights owners with more instruments against online services engaged into copyright infringement. Among many other details, the law suggests to enable the authorities to force third parties residing in the United States to block access to infringing services or cease doing business with them at all. The 3rd parties mentioned in the law are broadband providers, search engines, payment processors, and even advertising networks.

Nevertheless, the Internet is living by its own rules, clearly showing that the legislation like these don't work anymore: first of all, it's futile to target websites one by one from millions of domains. Then, even if the sites are targeted and taken offline, their visitors will still be able to reach the final destination thanks to a MAFIAA Fire plug-in, which allows Internet users to "un-censor illegally shut down domain names". In other words, the add-on maintains a list of URLs and their mirror websites. Once the US authorities seize a domain, the add-on will automatically forward the users trying to reach blocked destination to the new site so that they wouldn't even notice.
By:
SaM
May 26th,2011
Posted by:
Date:
Thursday, May 26th, 2011
1

| | |
| --- | --- |
| posted by (2011-05-26 14:59:23) | |

| | |
| --- | --- |
| | stupid old mens ideas keep them coming long live the free net |
2

| | |
| --- | --- |
| posted by (2011-05-26 16:27:02) | |

I cannot get my head round the stupidity of these copyright violator hunters.
Somebody else is always ready and waitin to fill the gap or as you mention
the sites are usually moved to another server. And there back, easy as pie.
Its that simple my 7 year old daughter can understand how it works.
So why don`t they stop throwing money hand over fist at such unintelligent
ideas. And get up to date and stop livin in the 60s and 70s.That`s how
out of touch I think they are. Dumb as dumb can be.

It`s just like watching a dog chase its own tail.
3

| | |
| --- | --- |
| posted by (2011-05-26 18:39:52) | |

you're retarded if you patronize these websites.

i doubt 9/10 of you download torrents without PeerBlock/PeerGuardian, how stupid does watching it all off one stream sound? when will this downloading a stolen copy of something from one source shit going to go out of style? 1998 with AOL 3.0 with most of us (i hope)...
4

| | |
| --- | --- |
| posted by (2011-05-26 21:06:55) | |

| | |
| --- | --- |
| | Eh! |
5

| | |
| --- | --- |
| posted by (2011-05-27 12:03:33) | |

The thing that still boggles my mind is WTF has ICE to do with copyright?

Enforcing copyright is in the jurisdiction of the FBI NOT ICE...
If it was ICE jurisdiction; then why have we not seen it in the beginning of a movie? Only the FBI is seen..
6

| | |
| --- | --- |
| posted by (2011-05-27 17:09:42) | |

| | |
| --- | --- |
| | What has US Homeland Security's Immigration and Customs Enforcement have anything to do with copyright infringement. Its to curtail human right and make everyone into a slave for the Illuminati and the one world government, the money bastards never have enough of it, and are screwing all humans outside of their elitist club, also they want to diminish the world population to 500 million by wars and viruses so that they could have it all. |
7

| | |
| --- | --- |
| posted by (2011-05-29 02:52:45) | |

Menahinue haha ikr.

Anyways, The Goverment Needs To Understand Sharing Is Caring
Articles Search
Most Popular Stories
Articles Categories
Articles Tags