Haiti Facing Nature's Wrath

Added: Thursday, January 14th, 2010
Category: Headline News > World Affairs
Tags:ET, p2p, Torrent, Peer To Peer, BitTorrent, .torrent, utorrent, bitcomet, extratorrent.com, 2010, file sharing via torrent, US, world news, earthquake, haiti, natural disasters, wrath, un

Haiti is way beyond recovering from the disastrous earthquake ( a magnitude -7) that happened on Wednesday,the US and other nations promised to "BE THERE" in the form of sending food, water, medical necessities and doctors, but so far the help is far from visible.
The organizations "Medecins Sans Frontieres" along with the doctors sent by Cuba are on their feet to attend to the innumerable wounded in two hospitals and they have also set tents to facilitate treatment.

Early Thursday more global aid was found landing or getting ready to set aboard to give a well-demanded help.

A pitiful sight is the survivors setting up tent wherever possible and finding remnants to eat from. The rubble has become a haven for food searchers. It's heart breaking to see the desperation and the blank eyes devoid of emotion for the loss is so abyssal. The sites are horrifying as people are just wandering around trying to find solace. "We are trying to survive", is what is ringing in everyone' ears around Port-de-France.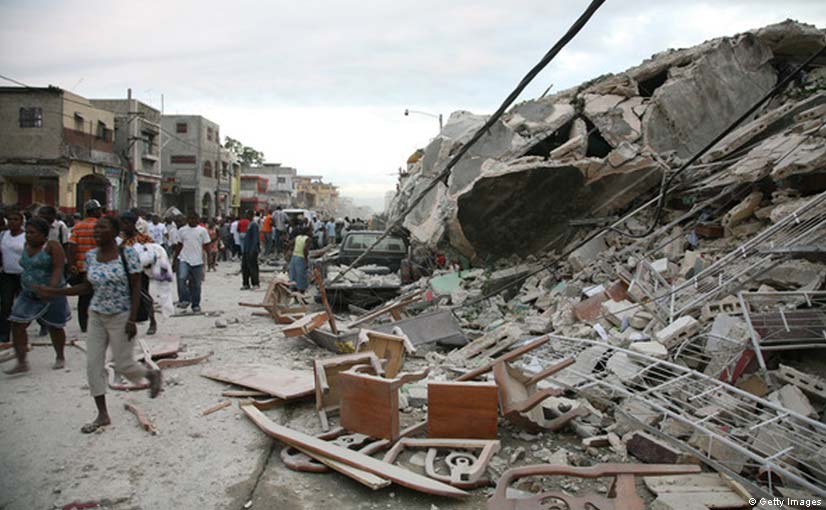 People were seen digging, sometimes bare hands, to find survivors. Doors are being used as stretchers. Lorries and police vans are converted ambulances. The urgency to help and find survivors s almost palpable.

The UN has released $10 million from their Emergency Fund to bring relief to Haiti's major loss. That despite that the UN own forces have suffered tremendous loss. over 16 UN personnel are confirmed dead and the mission head Heidi Anani and its deputy had were also confirmed missing.
US President Obama kept his word that America will stand by Haiti. The US has approved $ 100 million to be shed as help towards Haiti. This is huge amount in recent history that has been approved as initial relief.

So far the death toll is reaching up to 50,000 with few millions of homeless and wounded.God knows what will happen next or where an earthquake will hit..

By:
SaM
January 14th, 2010
Posted by:
Date:
Thursday, January 14th, 2010
1

| | |
| --- | --- |
| posted by (2010-01-14 19:54:43) | |

| | |
| --- | --- |
| | I hope that anyone that can donate to help does, poverty and disease are the enemies everyone should be fighting against, lets hope they get the help they need. |
2

| | |
| --- | --- |
| posted by (2010-01-14 20:22:05) | |

| | |
| --- | --- |
| | thx SaM .I AGREE WITH iwillkillall & LETS ALL DO OUR BIT |
3

| | |
| --- | --- |
| posted by (2010-01-14 20:54:31) | |

GOsh....help them, this was my reaction when i saw my newspaper's front page full of grave toned speaking pictures.
Thns SaM..Gr8 post..
a must read stuff...
4

| | |
| --- | --- |
| posted by (2010-01-14 21:53:02) | |

| | |
| --- | --- |
| | yeah TY SaM, a must read stuff! |
5

| | |
| --- | --- |
| posted by (2010-01-14 22:17:59) | |

The newest count shows more than 100,000 dead...
I'm speechless...
6

| | |
| --- | --- |
| posted by (2010-01-14 23:57:09) | |

| | |
| --- | --- |
| | Omg this is terrible, poor people,they need all the help they can get.I guess you just can't fight against nature. |
7

| | |
| --- | --- |
| posted by (2010-01-15 01:27:57) | |

| | |
| --- | --- |
| | It's sad what happened in Haiti, but I am very proud of how the US and many countries around the world have responded to this crisis. I think that good people, especially here in the US, are finally getting the message: we've got to take care of one another. I believe goodness resides in us all and we are showing that through this devastating event. I believe we are on our way to our next level of consciousness despite all the negativity that tells us otherwise. Peace! |
8

| | |
| --- | --- |
| posted by (2010-01-15 03:56:02) | |

| | |
| --- | --- |
| | MAY THE LORD BE WITH ALL THESE BROTHERS AND SISTERS,MAN WOMAN AND CHILD,AND I HOPE THAT ALL CONTRIES UNITE,NOT ONLY IN DISASTERS LIKE THIS,BUT IN ALL,IT TAKES A DISASTER TO UNITE ALL PEOPLE OF ALL RACE,AND TO ALL THE WEALHTY,ITS TIME TO STEP IT UP AND HELP THESE PEOPLE RIGHT NOW,MY HEART AND SOUL ARE WITH THESE PEOPLE RIGHT NOW!!!!!!!!!!!!!!!!!!!!!!! |
9

| | |
| --- | --- |
| posted by (2010-01-15 05:37:43) | |

This is indeed a terrible tragedy..


UN has released $10 million,US President Obama $ 100 million, Gordon Brown UK Prime Minister guarantees $ 10 million..

This is an absolute outrage a Piss in the ocean, Obama is talking about taking $117 billion from bank bonuses in tax

and as for Brown $10 million or £7 million and we in the UK have sent 70 people to help search for people that isn't going to do much for a country

that has been completely destroyed and to be honest what is $10 million to the United Nations... think about it !

these people really need help and they need it now.. with some serious money and equipment.
10

| | |
| --- | --- |
| posted by (2010-01-15 06:46:55) | |

Hey guys,

Just a heads up, you can donate $10 to Haiti through your phone service provider. Text the word "Haiti" to 90999. You will receive a reply text asking to confirm your $10 donation, and respond with "Yes". Very simple way of donating that takes very little of your time and no need to exchange credit card or personal information!

http://newsroom.redcross.org/2010/01/12/disaster-alert-earthquake-in-haiti/

This is for real! Check out the link!

Sharing is Caring!!! =D
11

| | |
| --- | --- |
| posted by (2010-01-15 11:02:46) | |

Now see that if Michael Jackson were alive he could be doing a benefit concert there to raise money and get the ball rolling.....

Guys Haiti has been a island nation in conflict for many years. Has had to deal with one corrupt leader after another that continues to plunge its people deeper and deeper into poverty. At least count The national center For Disease Control in Atlanta estimated that as many as 30% of its inhabitants were infected with HIV.

Are you sure they aren't hiding some weapons of mass destruction somewhere in that rubble? Maybe they are protecting a recently discovered source of oil that the United States wants to get a hold of?

Christ it took the US how long to respond to a hurricane tragedy in its own country? You think its going to rush on over to a tiny little island nation that will probably be dead all on its own if left to fend for itself? No offense but the UK prime Minister is a wanker!

Personally, I think the reason the United States is dealing with the massive financial crisis it is dealing with now is because it doesnt know when to mind its own business. It doesn't realize that you can not save the world! You can not continue to ask your own people to take on the burdens of helping yet another country full of corruption and diseases brought on to them by thier own choices and decisions. Its just not fair to ask your own people to bankrupt themselves taking care of others, when the others are perfectly capable of sorting out themselves.

I tend to think that maybe, just maybe God is sorting the whole mess out using all the resources at his disposal! Sodom and Gomorrah baby! Don't look back!
12

| | |
| --- | --- |
| posted by (2010-01-15 12:22:35) | |

godchaser- Haiti's problems are because of American and western intervention. The country has suffered under imperialism since Columbus arrived in 1492. And the corrupt leaders are usually backed by the US gov - because they provide 'ease of access' business policies, that further exacerbate the already impoverished living standards that the locals face.

And as far as the financial crisis- It has nothing to do with aid or welfare measures. It was because of profit-seeking banks overextending the credit market.
13

| | |
| --- | --- |
| posted by (2010-01-15 12:59:33) | |

| | |
| --- | --- |
| | Oh GOD Bless The Poor Helpless Forgive Them........ |
14

| | |
| --- | --- |
| posted by (2010-01-15 13:03:24) | |

| | |
| --- | --- |
| | i in part have to agree with godchaser ...america gets its bad name from the fact "someone is in trouble we jump in to throw money at things and throw our country in the middle of affairs that really have nothing to do with ourselves and we say "look we have lots of money and you dont" its an arrogance thing that everyone sees and weve been doing it for many ..MANY years..which is why everyone hates america except americans..granted this might be the exception but it is still kind of funny how fast we are to act for others but we cant help ourselves..and yes i believe in natural selection ..we need to take lessons from the animal kingdom and throw emotions aside and start focusing on our own personal instinct based survival. poor haiti maybe we can send our armies over there next to make sure they have a good president and reality TV. |
15

| | |
| --- | --- |
| posted by (2010-01-15 13:23:58) | |

Finally someone understands what I am getting at! As an American who no longer lives in America I have experienced this Hostility first hand I have spoken to people who cite the exact reasons mentioned..."arrogance". And Blasphemer .....ummm I have experienced first hand the conditions and reasons behind them first hand I certainly dont need a dimwitted lecture on the subject by you....

Sheesh where do you get your history from did you even read my post before you went waving your dick in the air trying to prove its bigger? By the way it aint! Right its all because of the banks uh huh, nothing else...well you are wrong plain and simple Haiti's problem and the US's financial problems, mismanagement existed long before the banks started playing around.

Seriously you need to read before you write Blasphemer! And thanks Nodurxshn at least you got my points! If you keep your emotions in check and look at things reasonably and intelligently you can understand the hatred people have for the US and Americans around the world.
16

| | |
| --- | --- |
| posted by (2010-01-15 14:59:50) | |

godchaser- People don't have a problems with Americans, its with the American government's foreign policy that people take issue with. And yes I did read your response- thats what promted me to write my comment. I just want to stress- my criticism was not of the American public, but rather of the American government and western imperialism in general.

AS for the history, it is accurate; its just largely ignored by the mass media. However if you look you can find exceptions like this: Stephen Kinzer, New York Times, June 26, 1986. "The U.S. government has, however, arrested plotters attempting to overthrow the dictatorship of Suriname in New Orleans (described by the U.S. attorney as "a 'jumping-off point' for mercenaries seeking to become involved in South and Central America"),charging them with violation of the U.S. Neutrality Act (Christian Science Monitor, July 30, 1986), just as it had previously blocked efforts to overthrow the murderous Duvalier regime it supported in Haiti. The chief of intelligence of the main Contra force, Horacio Arce, defected in 1988 to Mexico, where he described his training by U.S. instructors in El Salvador and in a base in the U.S., the arms flow from Israel, his CIA contacts in Honduras, and other details, including the goal of attacking civilian targets to undermine social programs."

And the financial crisis- I was referring to the cause of the ultimate collapse, meaning the banking system. If the scope is larger- then yes, financial problems existed long before the banks played around- its a systemic failure of neo-libral economic policy.
http://www.youtube.com/watch?v=1rzo3Axz5lY (Financial crisis inquiry begins)

godchaser - if I come off as a mister know-it-all, I apologize. My intent is not to lecture or try and sound clever, I just think that when witnessing such a spectacle of misery and human suffering comments like "I tend to think that maybe, just maybe God is sorting the whole mess out using all the resources at his disposal!" are highly perverse.

Nodurxshn- we've seen what happens when people throw emotions aside and believe in their own relative superiority. We don't need another 1930's Germany.
17

| | |
| --- | --- |
| posted by (2010-01-15 15:16:43) | |

For God's sakes man! It's intellectual giants like yourself that get the rest of us in trouble....too damn clever for your own good! You ever been to Haiti genius? I have! Lived there for 10 years while working to improve the relations you talk so much shit about.....relations that the US Government did such a wonderful job at destroying and all the while we were there underminding the work we were doing with their secret, never let on hand know what the other hand is doing bullshit!

Yes people around the world have a very deep resentment and hatred towards the United States Government. Apparently you've never left your back water township to experience the personal hatred. You see Einstein people in other countries see Americans and they see the government. They know enough to understand that America is a Democracy....you know all that We The People stuff etc etc. So they figure that therefore Americans are the government!

as far as your supporting information, well you certainly seemed to have spent a lot of time copying and pasteing source information from other people....

Again you can think what you like, toss around all your Neo Nazi phraseology...Highly perverse or not "I tend to think that maybe, just maybe God is sorting the whole mess out using all the resources at his disposal!" Damn Right I do!

Personally though Blasphemer I think you've spent a bit too much time in the think tank and maybe just maybe God needs to sort you out a bit as well. Now walk away from the computer, shut it down, you are just a bit to highly strung! The only thing presuming to be superior is you! You might impress the woman in your life with your intellectual mumbo jumbo but seriously there's so much bullshit in your post its impossible to find anything of value!

I wont waste any more time in a one on one debate with a mental midget!
18

| | |
| --- | --- |
| posted by (2010-01-15 16:15:00) | |

| | |
| --- | --- |
| | yo sort it out and stop blaming america for the worlds problems, just donate what you can, instead of the utter crap u have posted |
19

| | |
| --- | --- |
| posted by (2010-01-15 18:57:50) | |

blasphemer there was no US government in 1492. The US has only really been involved in world politics for a scant 150 +/- years. the CORRUPT governments of the WORLD are a problem yes. BUT I don;t know of any of them that can make an earthquake of that magnitude. It's not a time to rant against the government, this is a time for people all over the world to help these poor people. Just remember to give to a KNOWN charity like the red cross, so that your dollars actually get used for disaster relief and not some fat cats wallet.

Carolina
20

| | |
| --- | --- |
| posted by (2010-01-15 19:03:48) | |

QUOTE You might impress the woman in your life with your intellectual mumbo jumbo but seriously there's so much bullshit in your post its impossible to find anything of value! QUOTE

Uhmmmm I resent the remark that any woman would fall for psuedo intelectualism especially as you have so elegantly pointed out its only aided by a computer. I for one don't think spouting of rhetoric proves anyone's intelligence.
21

| | |
| --- | --- |
| posted by (2010-01-15 19:07:09) | |

Nodurxshun, I completely agree, charity does begin at home. I think IF you want to give or can afford to give you should. BUT be smart about it and give where it will help or don't give and take care of your own problems first. Needing help is not actually a competitive sport.

Carolina
22

| | |
| --- | --- |
| posted by (2010-01-15 22:43:39) | |

| | |
| --- | --- |
| | I'm STILL unemployeed (which sucks) But I have a roof over my head I eat rather well (thats why I'm a chubby) the inportant bills elec, water, rent are paid. This is not there fault so I gave what I could $92.00 I know it isn't much to sum and a whole lot to others but If I could give to just one needy person I did my job as an american. God bless all.... |
23

| | |
| --- | --- |
| posted by (2010-01-16 02:31:04) | |

Ummmmm Carolina unless you are Blasphemers woman I don't understand why you are getting your panties in a twist unless of course you happen to be one of those "Feminist Nazi" types who feels the need to stick her nose in the hive every time someone makes a comment that has the word "Woman" in it....

Are you Blasphemers woman's attorney and therefore feel compelled to defend her? Sorry but feeling the need to defend would make one "Defensive" which to me would indicate something hit a resonant cord.....Besides it's a bit early for a woman to be on the computer, don't you have some house work, perhaps some laundry or garden work to do?
24

| | |
| --- | --- |
| posted by (2010-01-16 04:15:41) | |

| | |
| --- | --- |
| | We can't stop the devastating power of nature but, i hope the victims of this terrible tradegy get much needed help. It was'nt there fault this massive earthquake struck pOrt au Prince |
25

| | |
| --- | --- |
| posted by (2010-01-16 08:36:25) | |

| | |
| --- | --- |
| | You two stop bickering. What about Katrina? We live in the United States, where was the help? |
26

| | |
| --- | --- |
| posted by (2010-01-16 10:37:07) | |

Exactly my point!!!! How many years down the road are we from Katrina? How devastated is Louisiana? The help dried up when it eventually arrived after how long???? Aren't there people in the United States struggling as we speak? Losing their homes, living in tent cities, in their cars, out of work with no prospects. For God sake you ever hear the saying CHARITY BEGINS AT HOME!!! I would be one pissed off mother f-er right now if I was living in Louisiana, to mention just one place waiting all this time for help and then hear we were off helping people who couldn't give a shite about us!!

For God sakes man! I'm all for charity all for helping out but dont we have enough on our plates here at home? Shouldn't we take care of our own first and then if there is anything left start looking around to see where we can be of the most optimum help?
27

| | |
| --- | --- |
| posted by (2010-01-16 12:50:43) | |

| | |
| --- | --- |
| | GODCHASER IS ALWAYS LETTING HIS KKK MOUTH,THESE PEOPLE NEED HELP,NO MATTER THE MONEY IT TAKES OR NOT,IMAGING YOUR FAMILY ON THAT ISLAND,LET THEM GET HELP,NO MATTER WHAT,THERE'S HELP FOR ALL YOU NEED IT OKUS AMERICANS CANT BE THINKING ABOUT OURSELF ONLY,THEY ARE HUMANS TO AND THERE'S HELP FOR LOUISIANA AND FOR HAITI! |
28

| | |
| --- | --- |
| posted by (2010-01-16 12:57:13) | |

| | |
| --- | --- |
| | AND IF MICHAEL JACKSON AS YOU COMMENTED WOULD BE ALIVE HE WOULD HAVE RAISED A CHARITY FOR HATI AS MANY ARTIST ARE DOING RIGHT NOW,SO STOP YOUR HATING,YOU'RE AGAINST EVERYBODY AS IT SEEMS,GO BLAST YOURSELF UP AND END YOUR MISERABLE GARBAGGE LIFE AS SOON AS POSIBLE,BECAUSE YOU'RE NOT HUMAN I THINK THE WAY YOU EXPRESS YOURSELF AT OTHERS,YOU STINKY KKK BASTARD!!!!!!!!!!!!!!!!!!!!!!!!!!!!!!!! |
29

| | |
| --- | --- |
| posted by (2010-01-16 13:07:54) | |

| | |
| --- | --- |
| | I'M WITH STU IT WASNT THEIR FAULT THIS HAPPEND AS OF KATRINA,IT HAPPENS TO ANY COUNTRY,AND AS HUMANS THAT WE ALL ARE,LEAVING OUT CULTURES,COLORS.AND BELIEVES,WE SHOULD ALL HELP EACH OTHER,AND DO IT BEFORE GOD'S VIEW,LET NOT LISTEN TO POINT OF VIEW OF LIVING DEMONS AMONG US (GODCHASER)...LET THE HELP ARRIVE TO HAITI AND ALL OTHERS IN NEED!!!!!!!! |
30

| | |
| --- | --- |
| posted by (2010-01-16 13:11:42) | |

| | |
| --- | --- |
| | GODCHASER ?HAVE YOU TAKEN A HIV EXAM YOURSELF LATELY?????????????????????????????????????????????????? |
31

| | |
| --- | --- |
| posted by (2010-01-16 13:15:06) | |

| | |
| --- | --- |
| | HIS NICKNAME TALKS FOR ITSELF..........(GODCHASER) |
32

| | |
| --- | --- |
| posted by (2010-01-16 14:00:54) | |

| | |
| --- | --- |
| | am sorry really sorry for the ppl but everything take time not only day by day |
33

| | |
| --- | --- |
| posted by (2010-01-16 22:09:36) | |

| | |
| --- | --- |
| | thank you all for caring guys for my people |
34

| | |
| --- | --- |
| posted by (2010-01-17 01:43:22) | |

WARZY WARZY WARZY why do you find it necessary to scream your point? And why have you suddenly gone from a pseudo intellectual know it all to a name calling illiterate moron? I think you have proved my original points quite nicely, you've exposed your true self!

Perhaps it is you, projecting your homosexual fears and insecurities on the rest of us....You have no woman do you, I mean not in the traditional "woman" sense as in female! You have a "Partner" and you enjoy the sensation of his balls slapping against your chin as if you were back in grade school bobbing for apples.

You're the kid who always got his ass kicked on the playground, last to be picked for sports, wore your mommies clothes and snuck into her make up bag when no one was around....I know your type, you wear a mask like your child molesting hero did you only feign normality in truth and reality you are a predator just like him.

You have to come on the internet and attack people for having opinions that differ from yours to compensate for all that is wrong with you and your life. You prowl the streets at night looking for homeless men hoping against all reasonable hope that perhaps there you can find acceptance and dare I say love, even if briefly in that warm manly embrace....

In the end you scurry home like a rat trapped in daylight to wipe the evidence off your soiled body.....but it ever quite goes away does it, the brown stains remain! Poor WARZY!
35

| | |
| --- | --- |
| posted by (2010-01-17 01:47:51) | |

| | |
| --- | --- |
| | God chaser, Sorry I mistook you for something your not. I am not a femzazi and i certainly didn't mean to make YOU get YOUR panties in a bunch. Chill. BTW my chores are done my house is spotless and I can go where ever I want including here without YOUR approval. |
36

| | |
| --- | --- |
| posted by (2010-01-17 02:38:53) | |

i get godchasers point, like the katrina situation, that stuff was just messed up
blame us gov i would say
i know for sure a lot of people were willing to donate and help in the katrina situation and still will when other disaster comes
anyway we live in the NOW not the past
its funny, this article is about helping people, as always people fight about nothing and forcing opinions onto another
37

| | |
| --- | --- |
| posted by (2010-01-17 03:19:55) | |

I will say this again....I have no problem with offering and and assistance to people where ever they are that are in need of it! I do think we should first focus on those problems and people who are struggling and in need of assistance and aid here AT HOME first and then after they are in a position to resume care for themselves, then look to helping others.

The United States government has carried on for years and years as if they was an inexhaustible supply of resources be it money or food or land etc. They and its people seem to think they can just borrow and borrow against the future and create more and more debt today and into infinity and this simply isn't the case. You just can't print more money when you need it!

If you look at the Government as a business,,,,it just can not nor can any business employ or help everyone and remain strong, powerful and profitable. The head of that business or the head of the country needs to prioritize and budget or that company, that government will go broke and will not be able to help or employ anyone! History should have taught us by now that you can not fix all problem simply by throwing money at them.

Haiti is in an unfortunate position, but it is no better or worse positions than drought stricken Africa or war torn Uganda or so many other places. When does the United States put up its hand hand say look we are sorry, we are struggling and we need help. Our arrogance and false pride and over inflated egos won't allow it. We have to be the strongest, the best, the wealthiest, the most powerful. We can not allow ourselves to appear vulnerable....

That will be the undoing of the United States! Help who you want but wouldn't it feel better to take your money, walk down the street and take a homeless person out for a meal. Contribute to a shelter in your town, volunteer some time at a soup kitchen, Some face to face hands on stuff you know...

I see you'd rather write a check, send a money order...anything but get personally involved. Pat yourself on the back go ahead then send your resources to Haiti meanwhile people in your own home town are in need, they are suffering. Go ahead get all self righteous point your crooked little fingers at me, call me names!

Carolina no harm no foul..even if you don't need it....I approve! I know your man does to type away dear girl!
38

| | |
| --- | --- |
| posted by (2010-01-17 06:42:14) | |

| | |
| --- | --- |
| | I'M VERY SAD TO KNOW THAT IN OUR AMERICA THERE STILL A SMALL PLAGUE OF LOWLIFES KKK OUTHERE,THAT DOES NOT BELIEVE IN HELPING OTHERS IN NEED,SHOWING THIER SELFISH WAYS TOWARDS OTHERS,YOUR ARE RIGHT GODCHASER USA SHOULD REALLY FOCUS ON IT'S OWN PROBLEMS,STARTING OUT BY CLEANING THE HOUSE OF LOWLIFE KKK'S LIKE YOU GODCHASER,GIVE YOUR WHEREABOUTS,I'LL BE ONE OF THOSE AT THE FRONTLINES!!!!!!!!!!!!! |
39

| | |
| --- | --- |
| posted by (2010-01-17 07:57:25) | |

| | |
| --- | --- |
| | Its unbelievable to see what happenned, so many lives that are lost.I believe God will make a way for the haitian people, as he already did, so many nation coming together to help them. WARZY,ignore Ignorant Cold Hearted people who never know what it is to have a human heart because they so cautgh up on nothing but hatred,thats how they feed their pride, it make them feel good about themselves thats why they sound so selfish. they themselves needs to be rescued, but THEY CAN ONLY GO SO FAR WITH IT. someday they will need someone to pick them up from the ground and won't find none. it is good to help others when they lost hope to go on, if no one reach to them, who will then? TO THOSE WHO HELP YOU ARE DOING A GREAT THING AND SOMEWHERE IN LIFE IT WILL COME BACK TO YOU TEN TIME FOLD. |
40

| | |
| --- | --- |
| posted by (2010-01-17 10:35:01) | |

WARZY WARZY WARZY...... Still yelling to make your point I see....The only thing you've ever been in the front of the line for is to give sexual favors to your fellow pillow biting ass clown and pedophile predator friends. Once again you failed to read or comprehend my comments you ignorant goo gobbling cum guzzler....

My whereabouts? What are you going to do you pathetic poo pincher? You couldn't leave your trailer park long enough to make the trip, let alone afford the airfare to get here.... and how you have arrived at the supposition, that I am a member of the KKK is beyond me, the KKK is an American invention they are probably more your brethren than mine.

Perhaps if you hadn't spent the most critical developmental years of your life being repeatedly passed around and sodomized by all the men in your fasmily things would have turned out differently for you and while all that sexual abuse might explain your inability to process and verbalize information appropriately, your malformed brain fails to excuse you from being stupid!

Really making idle threats of violence against people on the internet is pathetic and weak! Everyone has by now seen what a complete and total idiot you are and what all that pseudo intellectual dribble you were spouting was really hiding hahahahah!

Now go away you silly pathetic little gay man! And renaissance83 you can climb off WARZY's ball sack whenever you're ready
41

| | |
| --- | --- |
| posted by (2010-01-17 15:32:47) | |

| | |
| --- | --- |
| | CALLING OUT TO ALL FELLOWS OUTHERE,LETS HUNT DOWN THIS MISEABLE SCUMBAG(GODCHASER) AND HANG HIM,AND SHOW ALL OTHER KKK'S AS HIM TO BEWARE!!!!!!!!!!! |
42

| | |
| --- | --- |
| posted by (2010-01-17 20:11:50) | |

Flaming and off topic-someone needs to take a lead so i have.
Take note we dont make false accusations or insult on Topics here at ET,behave guys and girls or your gone for a while.
SD
43

| | |
| --- | --- |
| posted by (2010-01-18 05:09:24) | |

| | |
| --- | --- |
| | SORRY GODCHASER, YOU DONE DID MY HOMEWORK ALREADY, THATS HOW YOU KNOW SO MUCH HOW ITS DONE. THE TRUTH HURT DOESN'T IT? I WAS NOT TALKING TO YOU, BUT IF THE SHOE FITS WEAR IT. YOU JUST A WASTE OF BREATH AND TIME, BY THE WAY, YOU CANT STOP WHATS ALREADY DONE, HAITI IS GETTING THE HELP THEY NEEDED, UNLESS YOU GOD YOU CANT STOP IT, AND STOP THINKING THAT EVERYONE THINKS LIKE YOU. GET AN UPDATE, WATCH THE NEWS. YOU SEEMS TO TALKED ALOT ABOUT PEOPLE BEING GAY AND THOSE DISCUSTING COMMENTS. YOU FULL OF HATRED AND YOU FEEDS IN IT , MAYBE YOU UNDERCOVER AND TRY TO HIDE UNDER YOUR OWN CRITICISM, PURE IGNORANT YOU REALLY DUMB. JUST LIKE I SAID BEFORE, YOU DONT KNOW WHAT IT IS TO BE HUMAN, I CAN SEE HOW UNCIVILISED YOU ARE. PEOPLE MAKE MONEY,MONEY DOES NOT MAKE PEOPLE.WHAT WOULD HURT IF SOMEONE GIVE 1 DOLLARD TO SAVE SOMEONE'S LIVES? I KNOW YOU DONT UNDESTAND WHAT THAT MEAN. WELL THE PEOPLE WHO GIVES MONEY DID IT ON THE OWN FREE WILL, ITS NOT COMING OUT YOUR POCKET. ITS NOT YOUR FAULT, MAYBE THATS HOW YOU WAS RAISED. IF THAT MONEY THEY RAISED WAS COMING TO YOU, IT WOULD NOT BEING A PROBLEM BUT IT DOES HURT YOU, TO SEE IT GO TO CHARITY. |
44

| | |
| --- | --- |
| posted by (2010-01-18 05:19:40) | |

| | |
| --- | --- |
| | SOME PEOPLE ARE POSTING COMMENTS OF HOW UNITED STATES NEEDS THAT MONEY NOW AND VETERANTS AND SO ON, YES ITS TRUTH, BUT THERE IS NO EARTHQUAKE AS OF NOW IN UNITED STATE. THE QUESTION IS WHO WOULD YOU RATHER RESCUED FIRST, SOMEONE WITH 1 DAY TO LIVE OR SOMEONE WITH ONE HOUR TO LIVE? |
45

| | |
| --- | --- |
| posted by (2010-01-18 05:49:30) | |

no comment people - think first and then write not the other way.

This is a serious subject and it should not be a place to post politics speeches
such as Mr Godchaser's and others as well - honestly You should be ashamed.
But You're not ... and probably we'll see a lot of posts in near future because
as long as some1 has different opinion - You're there to show "the only right way"

pathetic.
46

| | |
| --- | --- |
| posted by (2010-01-19 10:32:35) | |

godchaser resides outside of the proverbial box and has allowed the community a glimpse of his views. It is unfortunate that it has become an assault on all who post, but I for one completely understand the point he is trying to make. It was intriguing to read all of the posts, thank you godchaser for taking the time to post.

For all of you out there who type all in CAPS... turn 'em down, they're too loud.
47

| | |
| --- | --- |
| posted by (2010-01-20 06:17:11) | |

First I would like to thank Inert01 for his/her comments and willingness to look at some comments in a dispassionate objective way.

Secondly, to those of you so called VIP members who have taken advantage of my inability to respond and lashed out with all your venom understand that had I not been unfairly banned it never would have gone unchallenged otherwise. VIP status does not entitle you to abuse or threaten other people...WARZY and renaissance I'm directing those comments to you....

I may not be a VIP member here, but I have the right like everyone to express my thoughts, even if they are unpopular. I will not stand by idly and allow myself to be attacked and threatened so beware. You come at me like that and you'll understand completely!

This first go at me was a freebie! I stand by everything I've typed and while it might have gotten me unfairly banned it will not silence me!

Leave the dead to bury their own. Charity begins at home!
Articles Search
Most Popular Stories
Articles Categories
Articles Tags