FBI Seeks for 5 New Hackers

Added: Thursday, November 14th, 2013
Category: Recent Headlines Involving File Sharing > Ridiculous Criminal Trials
Tags:ET, p2p, Torrent, Piracy, Peer To Peer, Network, Hackers, Internet, BitTorrent, Google, utorrent, bitcomet, extratorrent, 2013, www.extrattorrent.cc

FBI offers up to $100,000 offered for information on hackers wanted for cybercrimes who were recently added to its cyber most wanted list.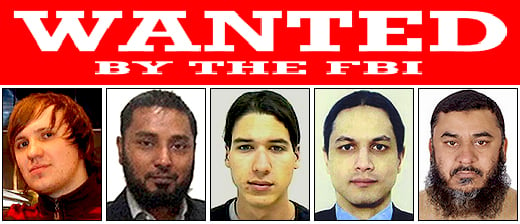 The FBI has recently updated its cyber most wanted list. The hackers are wanted in connection with hacking and fraud crimes within the United States and internationally, involving hundreds of thousands of victims and tens of millions of dollars in damages. The FBI added that cyber crime continues to pose a significant threat to the national security. However, other experts admit that sometimes technology breaches are far from complex and come from simple failures.

The five new members of the list include 2 Pakistani nationals – Farnhan Arshad and Noor Aziz Uddin – who are sought for their involvement in a $50 million international telco hacking scheme that ran between 2008 and 2012.

The third newcomer, Carlos Perez-Melara, of El Salvador, is alleged of a variety of cybercrimes, including a website offering to "catch a cheating lover", but instead installing malware to allow scammers to steal personal data and thieve identity.

Then, Syrian national Andrey Nabilevich Taame has played a role in "Operation Ghost Click" a malware scheme between 2007 and 2011, which managed to infect over 4 million PCs in over 100 countries. Finally, Alexey Belan, Russian, is sought for alleged hacking of 3 American-based companies between 2012 and 2013.

Since cybercrime sees no boundaries, the hackers believe they can hide overseas. However, the FBI is using its international partnerships and the publicity to ferret them out. It looks like the cyber era is just like the gangster era before it. The "wanted" ads and rewards of up to $100,000 for information leading to the arrest of the hackers have also been made available.

Throughout its history, the Federal Bureau of Investigation has depended on the people's help and support to bring criminals to justice. That was true in the gangster era, and it remains true in the cyber era as well. The agency admits that it still needs the public's help to catch people who have made it their mission to spy on and steal from the country and the people.
By:
SaM
November 14th,2013
Posted by:
Date:
Thursday, November 14th, 2013
1

| | |
| --- | --- |
| posted by (2013-11-14 23:32:53) | |

| | |
| --- | --- |
| | Well the Russian is easy to find, he still owns this site ROFL |
2

| | |
| --- | --- |
| posted by (2013-11-15 01:18:32) | |

| | |
| --- | --- |
| | well ibf the only guy from the mug shots that 5 looks like a wrestler from WWE the others look dodgy thanks |
3

| | |
| --- | --- |
| posted by (2013-11-15 04:35:45) | |

| | |
| --- | --- |
| | They are all at a bar celebrating with me at how innept the world regime is... |
4

| | |
| --- | --- |
| posted by (2013-11-15 05:31:42) | |

| | |
| --- | --- |
| | THAT TAKE THEM YEARS LOL |
5

| | |
| --- | --- |
| posted by (2013-11-15 06:29:17) | |

| | |
| --- | --- |
| | i know whereabouts of one of them.. but how valid is the reward?? |
6

| | |
| --- | --- |
| posted by (2013-11-15 10:03:44) | |

| | |
| --- | --- |
| | Is it me or that the FBI's intelligence is a little off because I swear on my left nut #2 and #5 are the same person. Lmfao |
7

| | |
| --- | --- |
| posted by (2013-11-15 10:40:21) | |

| | |
| --- | --- |
| | they wont find them so easily , well nothing impossible. |
8

| | |
| --- | --- |
| posted by (2013-11-15 14:45:29) | |

| | |
| --- | --- |
| | One way you can find hacker if you are hacker |
9

| | |
| --- | --- |
| posted by (2013-11-15 18:49:34) | |

| | |
| --- | --- |
| | Why the bad guys always wore a beard, a little bit racist right |
10

| | |
| --- | --- |
| posted by (2013-11-16 06:29:10) | |

| | |
| --- | --- |
| | Thanx |
11

| | |
| --- | --- |
| posted by (2013-11-16 19:36:51) | |

| | |
| --- | --- |
| | LOL |
12

| | |
| --- | --- |
| posted by (2013-11-16 20:41:39) | |

| | |
| --- | --- |
| | One solution..find another hacker,,reward him,,he will find the hackers in this lists you want them to jail. |
13

| | |
| --- | --- |
| posted by (2013-11-16 23:00:43) | |

| | |
| --- | --- |
| | why wouldn't it be an American on the forefront... usual suspects(Muslims) are on the FBI most wanted ist aaaaanf then a Russian... this is BS at its best... America is BS |
14

| | |
| --- | --- |
| posted by (2013-11-17 08:43:55) | |

| | |
| --- | --- |
| | respects for these hackers. |
15

| | |
| --- | --- |
| posted by (2013-11-17 18:33:39) | |

| | |
| --- | --- |
| | @7 they wont find them so easily , well nothing impossible. (ever tried slamming a revolving door?) |
16

| | |
| --- | --- |
| posted by (2013-11-18 02:58:12) | |

| | |
| --- | --- |
| | I totally agree with the BlackMamba - 2, 4, 5 look like relatives if not the same guy at different times....ha ha |
17

| | |
| --- | --- |
| posted by (2013-11-18 20:17:02) | |

| | |
| --- | --- |
| | its funny how they ended the article. "The agency admits that it still needs the public's help to catch people who have made it their mission to spy on and steal from the country and the people." what are they trying to say? be patriotic by reporting the people who steal and spy from the ones who steal and spy? haha ok. |
Articles Search
Most Popular Stories
Articles Categories
Articles Tags