UK Emergency Services Can Raise Alarm Via Twitter

Added: Monday, November 25th, 2013
Category: Recent Headlines Involving File Sharing > Current Events
Tags:ET, p2p, Torrent, Piracy, Peer To Peer, Network, Hackers, Internet, BitTorrent, Google, utorrent, bitcomet, extratorrent, 2013, www.extratorrent.cc

New Twitter service allows for SMS alerts from 58 organizations, including police, firefighters and the Foreign Office. After being introduced in the United States and Japan a couple months ago, Twitter alerts can also be used by 58 organizations in the United Kingdom and Ireland. The service can be used by the Environment Agency, the Foreign Office and all 47 of the British police forces.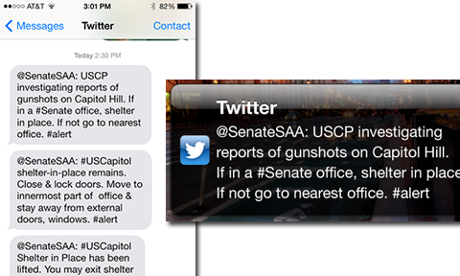 The service allows the agencies mark certain tweets as alerts, and they will be highlighted with an orange bell on everyone's timelines. Twitter users who follow the account can choose an option of signing up for notifications directly to their mobile phone, via SMS or a push notification from the Twitter app.

As you know, getting fast and accurate information to people after a major incident or terrorist attack can make a life-saving difference. Since our young generation doesn't watch TV, the police believe that using social networking services like Twitter provides additional ways to talk directly to the public. Twitter alerts mean that the urgent messages will stand out when it most matters.

Twitter alerts fulfill a similar function to the mobile phone alert system the UK government was testing a few weeks ago. That one also allowed agencies send short text messages to users in emergency situations. However, the governmental system, at the moment being tested in 3 parts of the United Kingdom, automatically messages everyone in the affected area. This means that its use is limited to pre-specified "civil emergency" events – disease pandemics, coastal flooding and terrorist attacks. In the meantime, the British proposals contrast with Twitter alerts, as those are an opt-in service used for any purpose the account-holder sees fit. The company believes that this should reduce the likelihood of complaints, like those that arose after the California Highway Patrol's use of its "amber alert" system to find two missing kids.
By:
SaM
November 25th,2013
Posted by:
Date:
Monday, November 25th, 2013
1

| | |
| --- | --- |
| posted by (2013-11-25 13:49:07) | |

| | |
| --- | --- |
| | HELP! A bloke is having tea without a crumpet!!! Call out the SAS!!!! |
Articles Search
Most Popular Stories
Articles Categories
Articles Tags