Last Opportunity for Google to Settle EU Antitrust Case

Added: Monday, January 20th, 2014
Category: Recent Headlines Involving File Sharing > Ridiculous Criminal Trials
Tags:ET, p2p, Torrent, Piracy, Peer To Peer, Network, Hackers, Internet, BitTorrent, Google, utorrent, bitcomet, extratorrent, 2013, www.extrattorrent.cc

EU antitrust chief announced that the tech giant has last opportunity to settle Commission's allegations that Google is abusing its dominant position in Internet search before pursuing legal action.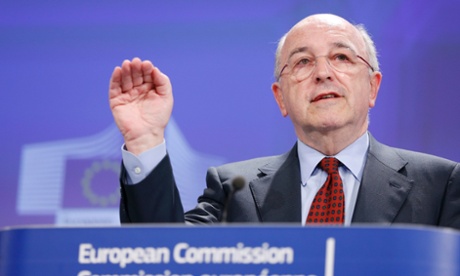 Joaquin Almunia, the chief of the European Commission's competition unit, has been pursuing an antitrust complaint against Google for the last three years. The search giant has already provided two proposals to settle the antitrust complaint, but Almunia rejected both of them. Now Google might be working on another suggestion. The antitrust chief reminded that the traditional route of pursuing the infringers would involve a formal Statement of Objections followed by a protracted court case, and ultimate fines of up to 10% of the company's global revenues. Actually, the European Commission has previously pursued and won such cases against Microsoft and Intel. Google is now required to offer more, and not later than the next few weeks, if it wants to reach a negotiated settlement. Two previous proposals faced lots of criticism from rivals and complainants.

The antitrust unit started its investigation back in 2010 following complaints from smaller entities which found themselves demoted in Google search results while the company displayed similar services of its own prominently on its first search results page.

At the moment, Google is a major player on the EU market for web search (90% of searches compared to 70% in the United States). The antitrust chief questioned Google favoring of its own services in online searches while depressing prospects for rivals, as well as the use of original material from 3rd party portals in results, thus creating a disincentive to create original content. Almunia also pointed at Google preventing publishers showing adverts from competitors on websites through Google adverts.

In its recent proposal, Google offered competitors the chance to advertise their own services in the form of links in a box of "sponsored" search results. However, the giant's rivals, including Microsoft, complained that this feature doesn't affect Google's favoritism for its own products in results. Instead, Google's rivals could end up paying for seeing their links in a less visible place than Google's inks got for free.
By:
SaM
January 20th,2014
Posted by:
Date:
Monday, January 20th, 2014
1

| | |
| --- | --- |
| posted by (2014-01-22 09:18:59) | |

Hope they lose, because a 5 BILLION US dollar fine might make them sit back and re-think their recent actions a bit ... or maybe not.

Let's not forget, they have several OTHER lawsuits going on in Europe at this time as well, which COULD mean the cost of business in Europe may get VERY expensive for Google in the near future.
2

| | |
| --- | --- |
| posted by (2014-02-07 16:04:31) | |

| | |
| --- | --- |
| | So while Google has to stop anti-competitive practices, they also have to make there web pages less useful. Nice. |
Articles Search
Most Popular Stories
Articles Categories
Articles Tags