Spotify Will Tailor Music to Your Mood

Added: Friday, January 24th, 2014
Category: Bit Torrent Freedom > The Industries Of Records, Gaming, Software, Movies
Tags:ET, p2p, Torrent, Piracy, Peer To Peer, Network, Hackers, Internet, BitTorrent, Google, utorrent, bitcomet, extratorrent, 2013, www.extratorrent.cc

Famous music service Spotify is considering the idea of using sensors on the listener's body or in their smartphone which would measure their heart rate and select the appropriate music.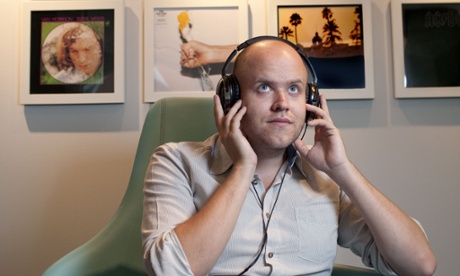 The more data Spotify manages to collect on listeners' habits, the better advice on music its algorithms can give. Apart from music, motion, heart rate, and temperature, the service could also start monitoring sleep patterns. Spotify explained that information provided by sensors can be used to automatically create playlists based on listener's activities like workouts, driving, sleeping or late-night working, without human interaction.

Spotify could automatically start playing pumping music if you are going for a run, or peaceful ambient tracks if you are ready to go to bed. Its developers admit that the more they know about listeners, the better their recommendations can be. It seems that overloading listeners with choice provided a poor user experience, so a balance must be found between quantity and quality of recommendations.

At the moment, Spotify's recommendation engine is powered by a combination of human editors, algorithms, social information and previous listening records. The engine provides personal recommendations about artists, albums and tracks. These also inform the shuffle play feature which Spotify unveiled last December and now continues to improve. At least 50% of mobile listening is people listening to their own playlists, and shuffle play allows them to play any of their playlists.

Spotify is one of the most popular music streaming services. Last month, Led Zeppelin made its streaming debut on the service after it made ad-supported streaming available on mobile devices.
By:
SaM
January 24th,2014
Posted by:
Date:
Friday, January 24th, 2014
1

| | |
| --- | --- |
| posted by (2014-01-24 19:37:42) | |

| | |
| --- | --- |
| | what a stupid idea |
2

| | |
| --- | --- |
| posted by (2014-01-25 02:32:56) | |

| | |
| --- | --- |
| | Why use spotify when ET tailors to your every musical need |
3

| | |
| --- | --- |
| posted by (2014-01-25 03:34:26) | |

| | |
| --- | --- |
| | Amazing the brains it takes for stupid ideas idiots at stupidfy. |
4

| | |
| --- | --- |
| posted by (2014-01-27 03:51:25) | |

LMAO... it's funny you can only use this Garbage in the U.S!... good thing I live in Canada and can't access this $#!T!

There will always be Stupid People out there that will use this kind of garbage. good luck
5

| | |
| --- | --- |
| posted by (2014-02-09 17:05:06) | |

Seems like a strange idea in that it's questionable whether when you get agitated you would want to listen to fast paced music. Not dissimilar to what happened when Eno's Music For Airports was played in airports and people were generally freaked out. When listening out of the airport setting it was a fantastic representation of how airports feel, but when you're in that situation you don't want to listen to it, because it sums up the negative aspects as well as the positive ones.
Will be useful for running, or listening to whilst falling asleep but I can't see it being too useful outside of such extremes and it would hinder using music to change your mood.
Articles Search
Most Popular Stories
Articles Categories
Articles Tags