Google Offers Encyclopedia Entries in Search Results

Added: Tuesday, January 28th, 2014
Category: Recent Headlines Involving File Sharing > Current Events
Tags:ET, p2p, Torrent, Piracy, Peer To Peer, Network, Hackers, Internet, BitTorrent, Google, utorrent, bitcomet, extratorrent, 2013, www.extrattorrent.cc

Recent update places results pulled from the company's Knowledge Graph under small popup panels next to search results. Knowledge Graph is Goggle's database which contains encyclopedia entries on over 570 million concepts, relationships, facts and figures.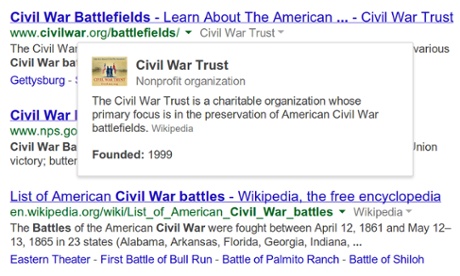 Google's software engineers announced they strive to help users learn more about the websites they see in search results, and therefore now everyone can see more information about them directly on the results page. You can access the panels through a small clickable link located on the 2nd line of applicable search results.

Although Google believes this update is likely to enhance search for users, it can cause problems for those website owners who appear in search results with the added data panels. The matter is that such popup will add up to 3 more links to the search result which don't lead to your website. In case this becomes a popular feature with the Internet users, it could lead some to click away from the actual site that is included in the initial search results.

Nevertheless, Google has already started this small trial, and is planning to continue expanding the number of websites which bring search results with Knowledge Graph entries included. The latest update is based on the largest change to the search algorithm the company had made in 3 years ("Hummingbird"). The latter focused on Knowledge Graph and natural language interpretation to make the core search better at answering longer, more complex and spoken queries.
By:
SaM
January 28th,2014
Posted by:
Date:
Tuesday, January 28th, 2014
1

| | |
| --- | --- |
| posted by (2014-02-12 16:04:29) | |

| | |
| --- | --- |
| | t's not perfect, but for the vast majority of casual searches, the information Wikipedia provides is perfectly fine, even if it can be affected by bias on occasion. Anyone who needs definitive and/or detailed information on a subject still has the rest of the Google search results right there, at hand. |
Articles Search
Most Popular Stories
Articles Categories
Articles Tags