We're All Going k00k00!

Added: Friday, September 11th, 2009
Category: Extra Torrent Related > Interviews
Tags:File Sharing, p2p, Upload, Torrent, Encoder, k00k00, Horror Genre, Scene, Master

Another interview with one of the world's most profound and renown encoders, a master in the slasher/horror/thriller/gore genre, k00k00 of 1337x Team.

First of all, welcome k00k00 to Extra Torrent articles, and thank you for giving us a bit of your time away from "stabbing" people and sitting down with us for a few questions. Anyone looking for more info on k00k00's torrents can look no further than http://extratorrent.com/profile/k00k00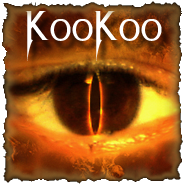 1) You're well known for your genre of horror, and your interest in releasing gore filled movies. Why did you stick to this genre?
RE:
I stick to this genre mainly because I am an avid Horror Fanatic myself. I love every bit of it. I am a Horror Junkie and every Horror movie I watch is like a fix. Another reason is because I feel that the genre is highly underrated which in my opinion is not fair. So I stick to this genre and attempt to pollute every torrent site, child and person that I can. I want to rot them to the core and turn them into a Horror Junkie much like myself.

2) Do you think, that something you're interesting in about your personal life influences your taste in encoding?

RE:
Are you asking me if I enjoy killing people and having sex with dead women? Fuck yeah!

3) You state things in your .nfo's, about you could "give a fuck" if others like what you do, and you do what you do because you enjoy it. What do you mean by this?
RE:
It's pretty clear what I mean on this but I'll go into details and shed some light on my absurd rants
A lot of people are always criticizing my taste and style. In their simple minds, they believe that releasing the material I release makes me inferior. What they cannot grasp is the fact that I can give a mother fuck if I am considered inferior or not. I do what I do and thats straight from the heart. I'm not in this to become "famous" or to gain popularity, I am simple a fan myself sharing with fellow fans. I do not want any part of the rat race, the who's got the bigger balls competition nor any of that "sheeple" drama.
4) Even with the humor you provide us with, you still release quality encodes of some of the rarest films. What drives you to keep doing this?

RE:
I think the first and third question pretty much sums it all up. Besides not having a social life (the obvious) with living human beings (Only dead ones), I am addicted to it.
5) You have made a home on many places throughout the web, and now you idle on 1337x. What about that group keeps you interested?

RE:
They're a friendly bunch and have proved to be loyal throughout time. They accept me for what I am and never question any decision I make or ask me to be someone that I am not.

6) Many of your releases, have been done as k00k00, and they all contain basically the same genre. Is there any other genre's that you have done in the past, or plan to do in the future?
RE:
I've done other genres before but that's just for shits and giggles. When I do other genres, I try to stay in the "cult" sub genre, whether it be a sci fi flick, an action flick etc. And for the record I have a few aliases, but I'm not going to discuss that
7) I also notice that many if not most of your releases, are again, single CD rips, and why is it you prefer these size releases?

RE:
I prefer them because they are simple and effective. I like simpleness and effectiveness combined (is there a word for that) I could do them bigger but I think about the people first, and not all people have the bandwidth or resources to be downloading large files. Much like in real life, the poor outweigh the rich, so that percentage that has a good great connection is minimal compared to the regulars. Besides all that, 700mb rips can look amazing, if done correctly ( No one click-apping).
Ever thought of delving yourself into another format, or even, BluRays? If so or not, why?
RE:
Perhaps BluRay in the future, when DVD seizes to exist or becomes somewhat obsolete. Why, well a lot of the titles that I love, the classic horror stuff is being re-released constantly on BluRay.
9) What are your feelings on the scene, and do you think you would ever become a part of that aspect of releasing, if so or not, why?

RE:
I have nothing but love for the scene, if it weren't for the scene, p2p wouldn't be what it is today. People don't realize that without the scene, we wouldn't have so many awesome p2p releasers or releases. I give credits where it's due and the scene is definitely on top of the food chain. It's like when you go buy a Burger at Burger King, ever wonder where the Burger comes from and who turned the chunk of meat into a burger, well, that's how I look at it. We are the customer buying the Burger and the man that had to slaughter the animal and turn the meat into a burger patty is the scene. I myself wouldn't want to be in the scene however. I'm not a team player and I don't adhere to rules, therefore, the scene is the last place on earth I would be in.

10) You have quite a following, that tend to stick to your releases, regardless of the age of the film. What would you like to say to those who really enjoy your work?

RE:
I'd like to say the following : " If I catch you hit and running on my torrent, I am going to locate you and tie you up in my basement. Then I will starve you, and after you can't bear it anymore, I will then proceed to carve pieces off your ass cheeks and feed them to you, raw baby! " Ok on a serious note, I'd like to say thanks for all the love and support, you guys rock my socks even tough I don't wear any
11) I for one respect your work, and was glad to see your return when you took a "vacation". Do you think that this is good to take breaks from your role?

RE:
Hey we all have priorities and sometimes a break is necessary whether it be for personal matters, family matters, pleasure etc. Yes, I do believe a break every now and then is necessary. It helps balance everything out and prevent from wearing yourself out.

12) How many years have you been doing, what you do?
RE:
Been doing it many years, only not through bittorrent at first. I would say a good 6 years.
13) Is there anything about the torrent world that really pisses you off? If so, explain.

RE:
Yes many things about the torrent world irritate me. The main thing that irritates me is the ignorance that abounds in most communities. People are clueless about how everything works and want everything fed to them on a silver spoon. To those people that are clueless, please educate yourselves and do not degrade the experience for the rest of us. Another thing that irritates me is the lack of responsibility leechers have, and their lack of team work. Most cannot be bothered to seed back and contribute to the community. Of course when I speak about these people I am not referring to ALL of the p2p community, there are definitely good people out there and to all of you who are good, I salute you. To you bad folks, please read question number 10.
14) If you could improve on one thing, what would it be?
RE:
Making macaroni and cheese, they always come out slimy for some reason...
15) There is so much more that goes on behind the scenes, than the general public even has a clue about. If you could tell them anything about it, what would you say?
RE:
It takes lots of hard work, time and money to maintain a community from which you could leech off. Whether it be an index site, full site with tracker, etc. Lots of people volunteer so much time you just wouldn't believe. They do this so that you all could have a wonderful experience in your file sharing endeavors.

16) There are many home grown encoders, popping up daily, each of them, trying to perfect their "game". Any advice you would have for them?

RE:
You have to learn to crawl before you learn to run
Keep practicing and do it out of love, do not do it to gain popularity or for any other nasty agenda. Also read lots and never be afraid to ask for help, asking for help does not make you inferior to anyone else. Be nice and treat others how you like to be treated. Follow these simple steps and you shall prevail.
17) What drives you to keep releasing, even after all this time?

RE:
Good question, perhaps my insanity has progressed more than I ever expected it to. Could be obsessive compulsive disorder, but I'm no quack
18) Where do you think k00k00 will be in a few years?
RE:
I honestly have no idea but if I had to guess, I'm thinking somewhere in Mexico hiding from the authorities and with a bad case of diarrhea (Don't drink the water) Or perhaps the inevitable, burning somewhere in hell.
19) What is your take on the assault on the torrent world, and the many index sites which have come under fire in recent years?

RE:
Greedy corporate men with too much spare time and money on their hands. Doing the usual, labeling people and dictating what we can or can't do. I say keep on keeping on, don't let these evil bastards stop you.
20) Last, what is the most important thing that you have gained from encoding, whether it be friends, knowledge, or something else?

RE:
Friends and profound knowledge on many other things not related to encoding.

xxxOBSCENExxx:
Thanks k00k00 for giving us a time out of your murderous rampage on the world to tell us a bit about yourself, your goals, and your commitment to excellence. You are a great encoder, and many in the torrent world appreciate you and your releases. Even more so do we appreciate you giving us a moment of your time to sit down with me, and to bring your torrents here to Extra Torrent. Good luck to you in your ventures my friend.

k00k00:
With that said, thnks for taking the time to interview my crazy ass. Love peace and pork grease. KooKoo Kachoo
Posted by:
Date:
Friday, September 11th, 2009
1

| | |
| --- | --- |
| posted by (2009-09-11 06:09:39) | |

| | |
| --- | --- |
| | Thanks to k00k00 again for his time and commitment in our world here on ET as well :) |
2

| | |
| --- | --- |
| posted by (2009-09-11 06:14:02) | |

| | |
| --- | --- |
| | That was a darn good read!! and I also couldn't agree more, the dead are so much cooler (no pun intended) and easier to get along with..its always those pesky assed living people who always seem to piss me off! |
3

| | |
| --- | --- |
| posted by (2009-09-11 06:18:51) | |

| | |
| --- | --- |
| | The pleasure was all mine :) |
4

| | |
| --- | --- |
| posted by (2009-09-11 06:19:41) | |

| | |
| --- | --- |
| | now thats some funny reading now he sounds like cool funny guy you dont want to stuff around lol great work guys |
5

| | |
| --- | --- |
| posted by (2009-09-11 06:24:20) | |

| | |
| --- | --- |
| | kookoo many thanks and ,you rock bro :) |
6

| | |
| --- | --- |
| posted by (2009-09-11 06:29:26) | |

Frickin MINT! Thanks for telling it like it is k00. I fell out of my chair about 3 times reading your interview. Oh, and hit n runners .... reference question #10 ;)

Thanks for the interview k00k00. PRICELESS :D
7

| | |
| --- | --- |
| posted by (2009-09-11 06:40:27) | |

| | |
| --- | --- |
| | NICE BRO |
8

| | |
| --- | --- |
| posted by (2009-09-11 07:01:41) | |

| | |
| --- | --- |
| | wooo hoo! good read |
9

| | |
| --- | --- |
| posted by (2009-09-11 07:35:52) | |

| | |
| --- | --- |
| | K00K00 rules!!4ever!!! |
10

| | |
| --- | --- |
| posted by (2009-09-11 14:52:56) | |

Thanks k00k00 and Obscene for another great read.
Long live the Slashers!!
11

| | |
| --- | --- |
| posted by (2009-09-11 16:17:06) | |

KooKoo always has clean stuff - This guy "loves" horror
Maybe he can find Convict 762 for me
12

| | |
| --- | --- |
| posted by (2009-09-11 18:12:03) | |

| | |
| --- | --- |
| | KooKoo da man.. and yes i;m hispanic and i dont drink the water in TJ.. lmao.... Obs u gotta bring in Noir.. the mastermind on the 700mb Xvid's |
13

| | |
| --- | --- |
| posted by (2009-09-11 18:28:34) | |

| | |
| --- | --- |
| | Very revealing kooky thanks for the inspiration buddy ;D |
14

| | |
| --- | --- |
| posted by (2009-09-12 04:15:57) | |

| | |
| --- | --- |
| | Excellent read, Everyone's hard work and time is appreciated |
15

| | |
| --- | --- |
| posted by (2009-09-13 09:54:29) | |

MY FAVORITE QUESTION AND THE BEST RESPONSE EVER, WAS THIS ONE:

5) You have made a home on many places throughout the web, and now you idle on 1337x. What about that group keeps you interested?

RE:
They're a friendly bunch and have proved to be loyal throughout time. They accept me for what I am and never question any decision I make or ask me to be someone that I am not.


They accept him for what he is, and NEVER question any decision he makes, or asks him to be someone he is not. Amazing. Did not know that was even possible. Sounds like a great group, wait... group is not the right word, a great TEAM. They seem to work together in a way that is priceless. :)
16

| | |
| --- | --- |
| posted by (2009-09-14 10:56:24) | |

Very cool article indeed. I've had the pleasure of downloading many of his encodings in the past. I believe I can speak for the entire population of this planet when I say "Thank you for all the Gore. You are truly a Eye-Candy God!".

Anyone who looks down on the slasher genre is sadly limiting themselves to a smaller piece of the entertainment pie. In this, we should not hate them nor inflict upon them some kind of generic film punishment such as "Barbed Wire up the Urethra". I believe even Freddy would say

"Ooh that's gotta hurt. Why the hell didn't I think of that!"

The answer is simple. He's far too sensitive a psychotic child killer to inflict cruelty like that on another human being. His record speaks for itself. For after every quadruple slash that he inflicts upon you, he's always there to cheer you up with a creative and comical one-liner!

Pain and pleasure. Horror films truly exemplify the meaning of Zen Balance.

After all, who would truly want to live in a world without Zombies, Mutants, Blobs, Triffids & Deformed Inbred Psycho Killers? Nobody! At least nobody that a civilized society like ours would allow to live another day. But that's okay, their death won't be in vain. Recycling is good for the environment and Soylent Green not only tastes great, but keeps you more regular than a bran muffin the size of a house!

So Peace Out and remember our motto.

"Murder, mayhem, variety in your killing sprees and never... Ever.... spare the ketchup when it comes spurting effects!
17

| | |
| --- | --- |
| posted by (2009-09-16 01:21:19) | |

| | |
| --- | --- |
| | Good read.I've downloaded some of his stuff,always top notch.Horror films rule!!Great Interview. |
18

| | |
| --- | --- |
| posted by (2009-09-16 19:14:55) | |

| | |
| --- | --- |
| | thanks for the great article....kookoo... u rule.....thanks for posting obs |
19

| | |
| --- | --- |
| posted by (2009-09-17 21:07:41) | |

| | |
| --- | --- |
| | k00k00 :D Really nice guy |
Articles Search
Most Popular Stories
Articles Categories
Articles Tags