Japanese Teens Caught Running Phone Scam

Added: Wednesday, April 16th, 2014
Category: About Torrents > Staying Safe And Secure
Tags:ET, p2p, Torrent, Piracy, Peer To Peer, Network, Hackers, Internet, BitTorrent, Google, utorrent, bitcomet, extratorrent, 2013, www.extratorrent.cc

The Japanese police caught three teenagers on suspicion of running a phone scam that may have netted them around $4 million. The 17-year-olds are suspected of carrying out a string of successful calling frauds that target the elderly people. This is when the con person calls up a victim and pretends to be a relative who has got himself into a trouble.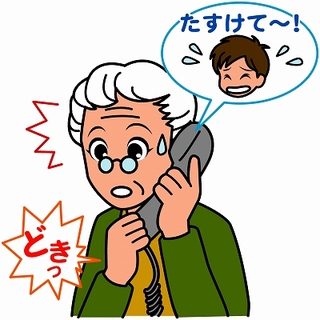 The elderly victim is asked to transfer a significant amount of money into their "relative's" bank account in order to save them from the lawyers or gangsters. The Japanese police explained that the teenagers were arrested after trying to withdraw more than $10,000 transferred by an elderly couple who twigged what was going on and notified the police.

In that case, the students had pretended to be their son and claimed he needed cash to pay off some woman. The scammers told them he had made a private settlement, but still needed money to pay for a lawyer. After being caught, two of the teenagers have already admitted to the police that they did it, but the third said he had nothing to do with this and they had "done him wrong".

Actually, the police don't think the teenagers are the criminal masterminds behind this crime. This is why they are also looking for a Fagan type who might have shown the students how to carry out the crimes and might pocketed most of the stolen money.

After conducting searches, the detectives found 550 cash cards in other people's names. All of them confirmed they have been used to withdraw money linked to 160 telephone scams during the last 10 months. Such phone frauds are popular in the country where adults are a little trusting due to the low crime rates. However, the children of today seem to not get the memo.
By:
SaM
April 16th,2014
Posted by:
Date:
Wednesday, April 16th, 2014
1

| | |
| --- | --- |
| posted by (2014-04-16 21:34:59) | |

| | |
| --- | --- |
| | well thats scam is known in many countries |
2

| | |
| --- | --- |
| posted by (2014-04-16 23:40:28) | |

| | |
| --- | --- |
| | Elderly people! Send me $500 and I will teach you how to avoid being scammed!! |
3

| | |
| --- | --- |
| posted by (2014-04-17 02:45:45) | |

so sad . i hope after he spend a few years in prison
he get gang rape by a bunch of Elderly men
for taking avenge of Elderly people.
4

| | |
| --- | --- |
| posted by (2014-04-20 18:06:08) | |

| | |
| --- | --- |
| | hahah |
Articles Search
Most Popular Stories
Articles Categories
Articles Tags