Pirates Prefer Paying for Movies Rather than Music

Added: Monday, May 12th, 2014
Category: Bit Torrent Freedom > The Industries Of Records, Gaming, Software, Movies
Tags:ET, p2p, Torrent, Piracy, Peer To Peer, Network, Hackers, Internet, BitTorrent, Google, utorrent, bitcomet, extratorrent, 2013, www.extratorrent.cc

According to the recent research, file-sharers also love going to the cinema and paying to watch films. It turned out that people who illegally download films are more likely to be wealthier and do not worry much about being caught infringing like their music counterparts. Besides, movie pirates are also more likely to slow down pirating when they feel they are harming the industry, while people who illegally download music don't.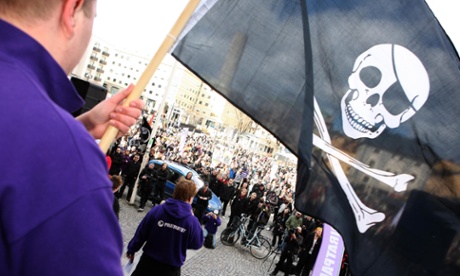 Over 6,000 people aged 7 to 84 in Finland took part in the survey to study the attitudes of people who illegally download films and music online. The study found out that movie pirates are more likely to live in big cities and seem to be "early adopters" of new technology. Perhaps, this is due to fact that downloading and file-sharing movies is much more technologically demanding, as it requires better broadband speeds and digital storage capabilities, along with access to a wider range of devices for playback than pirating music, which has now become relatively simple, fast and cheap.

As expected, the most prolific pirates of both films and music are younger men with skills, motivation and equipment enabling them to steal large volumes of music and movies. The research found out that the participants had illegally downloaded about 2,900 songs and 90 movies each, on average.

According to the previous studies, people who pirate entertaining content also tend to purchase it legally in contrast to those who don't pirate, often being greater consumers of media. For example, pirates from the United States and Germany purchase 30% more music than people who didn't share music illegally.

The file-sharers explained that they pirate because it saved money and allowed access to copyrighted content not on general release or before the release. In addition, they pointed out that in doing so people could help creators bypass record companies or movie studios. As for those who don't pirate, they listed fear of downloading viruses or malware, that the material didn't match the description or was of poor quality, or that it was too difficult to find.

The industry observers believe that the findings of the study are important, because they prove that campaigns emphasizing the harmful effects of piracy on the movie industry will be more effective than on the music industry. The estimated cost of piracy in the United States alone is $12.5bn to the music industry and $20.5bn to the movie industry.
By:
SaM
May 12th,2014
Posted by:
Date:
Monday, May 12th, 2014
1

| | |
| --- | --- |
| posted by (2014-05-12 04:29:54) | |

its more likely because there is no quality music made so nobody wants to pay for it anymore.
once in a while there is a good movie, even though they are always remaking the same movies every 10-20 years.
2

| | |
| --- | --- |
| posted by (2014-05-12 04:30:55) | |

| | |
| --- | --- |
| | "The estimated cost of piracy in the United States alone is $12.5bn to the music industry and $20.5bn to the movie industry" yet they have no problem putting tax on everything and taking alot of your hard earned cash also they dont have a problem printing it off by the billion everyday and useing other countrys gold as leverage against other things. long live piracy. fwck everybody who says different. |
3

| | |
| --- | --- |
| posted by (2014-05-12 05:03:00) | |

| | |
| --- | --- |
| | I go cinemas to watch only the movies that are worth paying for |
4

| | |
| --- | --- |
| posted by (2014-05-12 07:44:47) | |

| | |
| --- | --- |
| | I am always amused when the movie and music industry come up with estimates as to how much piracy is costing them. They foolishly assert that every download is a legitimate sale lost. Ask any pirate what percentage of their current material being downloaded would he/she actually purchase should piracy be stopped and you would find it would not exceed 5-7%. Losses are greatly exaggerated by the industry to highlight their problems, billions are more impressive than millions. |
5

| | |
| --- | --- |
| posted by (2014-05-12 07:48:51) | |

| | |
| --- | --- |
| | if i did not download movies i would nto bye the amount i do.i like i can view it see if its a keeper.if crap then i dont waste money on them. its win win for me + mother earth |
6

| | |
| --- | --- |
| posted by (2014-05-12 15:08:23) | |

| | |
| --- | --- |
| | Maybe when they make a movie worth my time and an album that's 1 hour long and not auto tune i might actually buy it but until then you have a better chance finding a UFO in your back garden.The only time i'm going to the cinemas this year is august when Inbetweeners 2 comes out.Films today are so rubbish i've started watching films made in the 50s and even there better than todays films. |
7

| | |
| --- | --- |
| posted by (2014-05-13 04:30:17) | |

| | |
| --- | --- |
| | prices of movie tickets are so expensive these days that i view at home first before deciding if i want to go to the cinema to watch. Maybe if the movie studios dropped their prices (drastically) it would attract more bums on seats |
8

| | |
| --- | --- |
| posted by (2014-05-13 12:33:07) | |

| | |
| --- | --- |
| | A lot of movies today, I may watch 1 to 4 a year depending what it is? the cinema tickets in Norwich ar about 8.99p per adult and some cinemas release the movie before it re the release date. |
9

| | |
| --- | --- |
| posted by (2014-05-13 18:17:00) | |

| | |
| --- | --- |
| | This is ridiculous they need to go after people selling drugs and killing people that are committing real crimes + lots of cinemas charged 10 to 15 dollars per movie when half the time they not even worth a dollar they need to back off people that are sitting home taking care of their families and not committing crimes |
10

| | |
| --- | --- |
| posted by (2014-05-15 06:53:43) | |

| | |
| --- | --- |
| | i download because i'm broke |
11

| | |
| --- | --- |
| posted by (2014-05-15 20:12:02) | |

| | |
| --- | --- |
| | I only buy movies I like that I cannot find on torrent sites. Either their dead seeds or not posted period; I would just order for cheap. I haven't been to the cinemas in years and when I did go, I would sneak my own pizza and snacks in because of their food prices let alone the ticket prices. Yes indeed they are the real highway robbers/jack boys and are getting away with it. |
12

| | |
| --- | --- |
| posted by (2014-05-16 14:27:41) | |

| | |
| --- | --- |
| | I have to agree with most of you. Back in the day going to a movie was a rare thing always been quite expensive so you only went if it was a real popular and probably enjoyable movie like Jurasic Park. Most of the time rather waited until it was broadcasted on TV. But that isn't doable anymore as commercials have spun out of control. Don't get me started on the extra you have to pay these days for 3D wile often you can't even go see it in 2D. I'm not a fan of 3D, used to think it was really cool even have a pair of early shutter-glasses of my own lying around but lets face it after 5 or so minutes you hardly notice it anymore just like you don't go oh, ah it's all in 3D on the way to your job or whenever. Then there is the issue of 3D glasses pinching, not fitting right and what not. Forget Glasses + 3D glasses and lenses tent to dry out in cinema's due to the lack of blinking while watching and the airco. |
Articles Search
Most Popular Stories
Articles Categories
Articles Tags