Afghanistan Would Not Ban Facebook

Added: Tuesday, July 8th, 2014
Category: Recent Headlines Involving File Sharing > Current Events
Tags:ET, p2p, Torrent, Piracy, Peer To Peer, Network, Hackers, Internet, BitTorrent, Google, utorrent, bitcomet, extratorrent, www.extratorrent.cc, 2014

The Afghan government would not be blocking Facebook during an ongoing deadlock over the election. This decision was made despite fears expressed by some that social media postings have caused ethnic hatred. In the country, the dispute between two candidates (Ashraf Ghani and Abdullah Abdullah) over alleged fraud in the recent presidential election has triggered online exchanges between rival supporters. The security agencies are afraid that those may spill over into violence.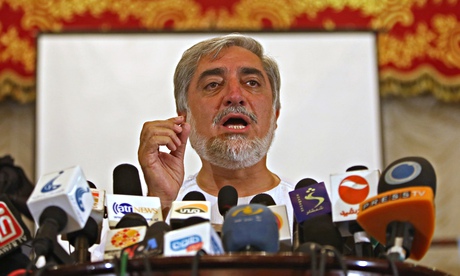 Ashraf Ghani is supported by the Pashtun tribes of the south and east, while Abdullah's supporters are Tajiks and other northern Afghan groups. This situation echoes the ethnic divisions of the bloody 1992-96 civil war. As a result, the national security council discussed banning of the social network in their meeting. The fears were that there were people on Facebook who spread hatred and caused damage to national unity. However, after discussion, the council decided not to ban the website.

Industry experts point out that Internet use has rocketed in the country in recent years, and loyalists of both sides have been posting hostile messages and pictures since the fraud allegations emerged.

Several weeks ago, the UN issued a warning that the Internet activity in Afghanistan could cause civil unrest, pointing out that there has been a disturbing tone in some social media platforms. The United Nations urged the supporters of both sides to refrain from inflammatory statements, hate speech, or the statements that could promote divisive ethnic mobilization. The UN representative also added that some postings were rhetoric, which brought back memories of tragic conflicts two decades old that cost the lives of tens of thousands of civilians.

Abdullah Abdullah has vowed to reject the results of the election, alleging that he was the victim of the fraud and calling for a thorough audit of ballot papers. In response, Ghani claimed that he won fairly by at least 1 million votes and announced that the result must be released on schedule after previous delays. This dispute has thrown the country's first democratic transfer of power into turmoil as American-led troops withdraw after dozen years of fighting the Taliban insurgents and with aid money to the country set to fall in coming years.
By:
SaM
July 8th,2013
Posted by:
Date:
Tuesday, July 8th, 2014
1

| | |
| --- | --- |
| posted by (2014-07-08 19:53:46) | |

| | |
| --- | --- |
| | The Russian and American invasion/police actions being where tens of thousands of civilians have died any sane rational people would side with an independent choice in the interest of the country and its people,and by independent I do not include religious/jihadist. |
2

| | |
| --- | --- |
| posted by (2014-07-09 11:27:27) | |

| | |
| --- | --- |
| | so fraud in the afghan election, must be like americas and the rest of the worlds elections, its good to see afghanistan is getting back like the rest of the world, quicker than i thought..lol |
3

| | |
| --- | --- |
| posted by (2014-07-09 11:57:29) | |

| | |
| --- | --- |
| | Social networking will sparking ethnic hatred? No way!!! |
4

| | |
| --- | --- |
| posted by (2014-07-09 19:43:49) | |

| | |
| --- | --- |
| | If memory serves America has signed a treaty to stay in country till 2022 was this cancelled or did some common sense prevail and the Americans realize that the might of the Russian Army who are just over the border could not stop the Afghans Taliban/AL-queda so what hope had they,since most are in Syria and Iraq now they need strategies to vacate before an Army of jihadists comes their way along with all the dispossessed ,orphaned and abused remnants of the people of Iraq the police action has turned into Al-queda recruits. |
5

| | |
| --- | --- |
| posted by (2014-07-09 20:14:14) | |

| | |
| --- | --- |
| | The three biggest political lies of the last 13 years,1:Saddam Hussein is allowing Al-Queda in the country,2:Iraq has WMD`s,3:We are here to set free the people of Iraq.(the Army surrendered then the carpet bombing began,police and private security forces/military started secular torturing and murders/collateral murders of the citizens as well as allowing insurgences into the country by Al-Queda)they will reap what they sow now beware the jihadists that they supported in Syria who are made up of Al-queda and other factions backed by the USA against the Assad`s as these are who the USA have helped rewrite the political map for and who will control Iraq and Afghanistan as the Americans pull out,Vietnam was just one of the many police actions (failed) this century as if the IRA and police actions for 100 years was not enough to prove to the world such actions ultimately fail and the terrorists win through attrition. |
6

| | |
| --- | --- |
| posted by (2014-07-10 09:27:22) | |

| | |
| --- | --- |
| | The three biggest political lies of the last 13 years,1:Saddam Hussein is allowing Al-Queda in the country,2:Iraq has WMD`s,3:We are here to set free the people of Iraq.(the Army surrendered then the carpet bombing began,police and private security forces/military started secular torturing and murders/collateral murders of the citizens as well as allowing insurgences into the country by Al-Queda)they will reap what they sow now beware the jihadists that they supported in Syria who are made up of Al-queda and other factions backed by the USA against the Assad`s as these are who the USA have helped rewrite the political map for and who will control Iraq and Afghanistan as the Americans pull out,Vietnam was just one of the many police actions (failed) this century as if the IRA and police actions for 100 years was not enough to prove to the world such actions ultimately fail and the terrorists win through attrition. |
7

| | |
| --- | --- |
| posted by (2014-07-11 19:19:34) | |

| | |
| --- | --- |
| | (GulMarJan yi na mani) it is the famous proverb of Afghan election this year. It's mean that gulmarjan doesn't accept. the proverb was used for a lazy university student(GulMarJan) because he fail every year in the exam and he says that i doesn't accept these results. so there is our lazy candid "Abdullah" who fail in last election and fails in this election too and now he said that i doesn't accept. So surely the next president of Afghanist is Dr.Ashraf Ghani Ahmadzai. the world second thinker. |
8

| | |
| --- | --- |
| posted by (2014-07-11 22:02:48) | |

| | |
| --- | --- |
| | @7 Ashraf Ghani is probably a more educated and popular choice, but to prevent civil war again and promote independence a neutral and unbiased choice would be best to avoid an autocracy as was learned from the 36 years of Saddam Hussien running Iraq a no nonsense strong leadership is required to control both factions and while Ashraf Ghani has the education and also been in government before, he does represent an opposing faction hence his tribal name Ahmadzai which is where there will be opposition.Either a coalition government has to be established or a unilateral choice between parties has to be elected to show the world and Afghan people that there is unity in the country as for far too long there has been no peace in the region.A GNC such as in Libya since 2011 would mean there would be a president but also a cabinet of ministers from both factions representing the peoples interests this would avoid an autocracy and give equal rights to both sides after the elections. |
9

| | |
| --- | --- |
| posted by (2014-07-13 06:26:19) | |

| | |
| --- | --- |
| | I am thankful to u "Mr.Embolism" for your good recommendation and i feel happy to know that someone is caring for Afghanistan. They just agreed on some point adn Dr.Asharaf Ghani request Mr.Hamid Karzai to be in his job for some more time and the result will be postpone. so i think that it is the good decision from Dr.Ashraf Ghani. |
10

| | |
| --- | --- |
| posted by (2014-07-13 06:27:56) | |

| | |
| --- | --- |
| | Thanks Mr.Jumbo71 |
Articles Search
Most Popular Stories
Articles Categories
Articles Tags