Comcast against Tor

Added: Tuesday, September 16th, 2014
Category: Bit Torrent Freedom > The Industries Of Records, Gaming, Software, Movies
Tags:ET, p2p, Torrent, Piracy, Peer To Peer, Network, Hackers, Internet, BitTorrent, Google, utorrent, bitcomet, extratorrent, www.extratorrent.cc, 2014

Comcast, the most popular telco in the United States, known worldwide for its happy customers and commitment to a positive future for an open web, has recently called to boycott the encrypted system Tor. The telco agents have recently contacted users who run Tor on their machines and instructed them to stop using the browser. Otherwise, the customers run the risk of being cut off.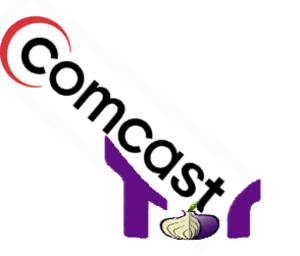 Media reports revealed that one Comcast agent insisted that Tor was an "illegal service" and was being used against usage policies. The agent then repeatedly contacted a Comcast customer and told him what websites he was accessing on the Tor browser. Although that very customer didn't pay any attention to the demand, the scary thing is that Comcast knew which customers were using Tor and what for. In other words, Comcast is spying on the online activities of its users.

Tor and Comcast have never been friends. First of all, the Tor project has listed Comcast as a bad Internet service provider. Tor cited Comcast's Acceptable Use Policy for its residential customers – it claimed to not allow servers or proxies. In response, a Comcast spokesperson claimed that the company did respect customer privacy and security. Apparently, this would mean that Comcast would only investigate the specifics of a user's account with a valid court order.

Nevertheless, it is well known that this approach wasn't applied in the case of Comcast's treatment of Ross Ulbricht, alleged Dread Pirate Roberts. The ISP previously collaborated with the US authorities by providing data on alleged Silk Road founder's Internet usage. Of course, Ross Ulbricht was never given a warning by Comcast or time to contact a lawyer before being arrested in a San Francisco library last October.
By:
SaM
September 16th,2014
Posted by:
Date:
Tuesday, September 16th, 2014
1

| | |
| --- | --- |
| posted by (2014-09-16 19:26:35) | |

| | |
| --- | --- |
| | let us spy on you or we won`t serve you is a dangerous and costly president to start as it`s one thing for ISP`s to allow monitoring by the NSA etc it`s another to enforce it and I for one would get a new provider since they obviously have no regard for their customers privacy,despite the TOR network being created legitimately by the US navy/MIT etc and the fact that it is still partly funded by the U.S govt since it is the only means of circumventing evil repressive regimes around the world (obviously the people of Comcast believe otherwise)and the fact that repressive regime is now the norm in the USA. |
2

| | |
| --- | --- |
| posted by (2014-09-16 19:34:37) | |

| | |
| --- | --- |
| | I've been a Comcast customer for several years. There are no other choices if I want high-speed cable internet service. All the horror stories about this company are true. If I'm ever late on a monthly payment I am robo called day & night. Yesterday, I received a telephone call while stopped at a red light. I explained to the Comcast employee I could not talk because my cell phone does not work well hands free (against the law here in California to talk on a cell while driving) & I was in the middle of arranging my mother's funeral. The Comcast employee's response was "This still does not excuse you for being late on your monthly [Comcast] payment." Burn in hell Comcast. |
3

| | |
| --- | --- |
| posted by (2014-09-16 20:53:11) | |

Peeping Tomcast,full of nsa snivelers and worn out dribblers,
beware of Doug the nsa thug.
4

| | |
| --- | --- |
| posted by (2014-09-16 21:37:57) | |

| | |
| --- | --- |
| | Until the government and business assign a personal drone to watch and monitor everything I do this really is no big deal. Bring on the drones. If we're going to give up our privacy may as well do it all the way. |
5

| | |
| --- | --- |
| posted by (2014-09-16 22:08:53) | |

I have Time Warner Cable, and although their TV and customer service is absolute shit, I have never had an issue with their internet or heard of any BS as like in this comcast story.

I'm sure all ISP's do some snooping but to what extent is unknown.
6

| | |
| --- | --- |
| posted by (2014-09-16 22:54:55) | |

| | |
| --- | --- |
| | I have comcast and I like their service,I pay $9.99 a month just for internet.I'm on the poor man plan were if you have kids and low income they will hook ya up for $9.99 a month I have let my bill go three months past due and not get a call or email. I haven't yet got a letter or email for dl torrents I do use a vpn most of the time but I still dl when my vpn plan is off and the only notices I get are from useing irc and their bot activity notices. |
7

| | |
| --- | --- |
| posted by (2014-09-17 04:05:19) | |

| | |
| --- | --- |
| | My friend recently had his internet cut off by comcast, not because he had Tor on his cpu, but because he was downloading films. Comcast told him to delete any files he had downloaded and they would no longer provide service for him. So he just changed isp's,these companies dont understand. if your going to be a pain in someones a** and tell them what they can and can't use/can and can't do,there eventually going to go elswhere, and they are going to lose customers/money over time. Bottom line is your paying for a sevice, and what you do with that service in the comfort of your own home is your own bussiness and nobody elses. |
8

| | |
| --- | --- |
| posted by (2014-09-17 04:42:41) | |

| | |
| --- | --- |
| | Unfortunately, in most of the U.S. people have access to only a single carrier for high-speed internet service. The four majors,(Comcast, Time-Warner, Charter, & Verizon,) have virtual monopolies in their coverage areas. A year ago I moved from a Charter-only area 2.5 miles down the road into a Comcast-only area. Of course, there's always AT&T's DSL - if you don't mind taking all day to visit & load a handful of sites. Also, all except Comcast have instituted monthly bandwidth caps. While with Charter I had my service shut-off for exceeding their 350GB cap (my monthly use is about 1TB). I had to fork over half-again as much money per month for a business account at 60% of the speed I had previously, AND they wouldn't let me use my own cable modem, I had to rent theirs. $130 a month is a lot to pay for 18mb down and 3mb up. At least Comcast has yet to institute a cap. I also have yet to receive an infringement letter from them. |
9

| | |
| --- | --- |
| posted by (2014-09-17 05:54:18) | |

No avatar Non for there what i have yet to meet to one happy happy customer and there commitment to what seeing how much they can piss others off . they are worse then verizon by far .


In my Area I am lucky they i have both Verizon and Comcast but all most 12 years before Verizon was my other pick i had to deal with Comshit i mean its was bad i had to go out of my house one time and fix some thing they told it would take them 3 weeks to get to but once Verizon came i noticed there CS got better but with me it was to late i haven't looked back but once when Verizon wanted to screw me i left Verizon but came back after they gave me the discount i wanted but that week was hell with comshit my internet dropped out daily the packaged i oped for half the channel worked and when I called it in i was told it would cost me to have it looked at and I had just resigned up with Comshit was told there was no data cap which was a lie to . I'm not lieing either . i have many more nite mare story's with comshit i won't bro posting here .
10

| | |
| --- | --- |
| posted by (2014-09-17 07:21:46) | |

Hey Folks. I am as concerned as all of you as to the mere mention of such an action. Being a Comcast customer your concerns are also my concerns. I am an avid practitioner of Tor. But I would caution everyone to investigate these claims before they become so widespread that everyone is panic stricken and paranoid. I have found a couple of articles on this subject and I ask everyone to step back and observe where this frenzy may have begun. I am including the links to these articles. Peace and Prosperity to all my torrent and Tor family. Just replace the word before the and in () with the correct symbol.

1 - xxx(dot)businessinsider(dot)com/comcast-threatens-to-cut-off-tor-users-2014-9

2 - xxx(dot)jobsnhire(dot)com/articles/11255/20140916/comcast-policy-against-tor-browser(dot)htm
11

| | |
| --- | --- |
| posted by (2014-09-17 13:55:06) | |

Long live the sovereign movement, lets all take back our sovereignty the state stole from us upon being born. And we all should learn the differences between legal (rules and regulations) and lawful (laws) and the shadow vocabulary that has been established to make you unknowingly consent to all sorts of things. It's much the same all over the western world but of course there well be often small differences between countries.

This is one of video's I came across lately regarding this, a decent place to start with getting informed.
youtube.com/watch?v=mZlfOORFFT8
12

| | |
| --- | --- |
| posted by (2014-09-18 01:23:26) | |

| | |
| --- | --- |
| | They have now denied all this |
13

| | |
| --- | --- |
| posted by (2014-09-18 02:21:55) | |

| | |
| --- | --- |
| | great movie can't wait to seeit again |
14

| | |
| --- | --- |
| posted by (2014-09-18 02:30:56) | |

Privacy in America? Get a grip.

Also, people using TOR are only fooling themselves, stick to bogey laptops and hacked wifi. "Why havent we been arrested" because your lame a$$ isn't worth arresting, just like all the petty criminals using mobile phones.
15

| | |
| --- | --- |
| posted by (2014-09-20 10:48:36) | |

| | |
| --- | --- |
| | We have no President. He/it "Obama" does not care. He isn't even a figure head. Get real people. Think about the name "Obama". |
16

| | |
| --- | --- |
| posted by (2014-09-21 09:20:34) | |

| | |
| --- | --- |
| | Well I have Comcast, and I swear it's soo weird because I'm only getting notices for She-Male/Tranny Porn, and nothing else. What's up with that??? |
17

| | |
| --- | --- |
| posted by (2016-11-06 15:54:01) | |

Comcast...
For many its the only game in town. ugh
ATandT 30-45 kbps want to watch a movie tonite better have started early in the morning or wait till tomorrow. Streaming video? LOL lag and freeze and drop. Gamer? Not anymore. dl some new music? hour or 2-3 for a 100mb album Thats the alternative to C-cast.ugh
Articles Search
Most Popular Stories
Articles Categories
Articles Tags