Candidates Announced By Pirate Party UK

Added: Sunday, April 4th, 2010
Category: Recent Headlines Involving File Sharing > Current Events
Tags:ET, p2p, Torrent, Piracy, Peer To Peer, Network, Hackers, Internet, BitTorrent, Google, utorrent, bitcomet, extratorrent, 2010, www.extrattorrent.com

Loads of political programmings has been going on like a recent one that's Three Strikes programs and now these authentic exclusives of politics are in demand for more than ever for more collective control over the processes of parliament.

And for the same, the individuals who are nominated as the candidates for the approaching general elections have been just made known publicly by the Pirate Party UK.



The leader of Pirate Party UK, Andrew Robinson is all set to move on with full energy and regarding the same he said, "We have a strong team, who want to stand up for your rights, for your freedoms, for your interests, but we desperately need to raise funds."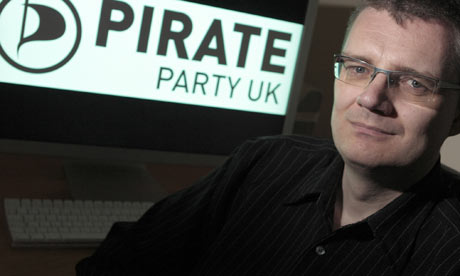 Sanctioned Candidates are >>>



Andrew Robinson – Worcester



Andrew Robinson (41) is the leader of the Pirate Party UK, and a professional graphic designer. Andrew has long been involved in the pirate movement, and has lead the party since its formation in July 2009. Andrew believes that "politicians need to learn that blindly doing everything they are told by 'rights holders' has consequences at the ballot box. Voting pirate is the best way to remind them that we hold some rights too."



Finlay Archibald – Glasgow Central



A maths student at Strathclyde University, Finlay Archibald (19) has been heavily involved in running the vibrant Scottish branch of the Pirate Party UK. Since joining the party, Finlay has founded the first Pirate student society in the UK. Finlay wants to engage with the people of Glasgow to give them an MP that they can be proud of, something which Labour has proven they cannot provide.



Tim Dobson – Manchester Gorton



Tim Dobson (19) is a systems engineer who helped set up Digital Freedom in Education and Youth, an organisation dedicated to supporting digital rights in education. As a founding member of the Manchester Free Software group, Tim is also heavily involved in the free and open source software movement.



Shaun Dyer – Leicester West

Working as an IT systems auditor, Shaun Dyer (26) has lived in Leicester for almost a decade. As an experienced computer security professional, he is ideally situated to bring to parliament a real understanding of the challenges and opportunities presented by Digital Britain.



David Geraghty – Derby North



David Geraghty (19) is a student and avid music fan. He believes in supporting artists without penalising fans, something that the record labels have demonstrated an unwillingness to do. David believes that the music industry does not currently give adequate support to upcoming artists, and wants to prevent the abuse of fans by this industry.



Graeme Lambert – Bury North



A keen local campaigner and sportsman, Graeme Lambert (18) hopes to run a campaign based on transparency after charges were brought against Bury North's current MP regarding his expenses claims. Announcing his candidacy, Graeme said, "The people of Bury North deserve an honest MP that will represent them properly after the disgraceful actions of David Chaytor, and that person is me."



Luke Leighton – South West Surrey



Luke Leighton (40) is a free software developer with extensive experience in project management and software engineering. He understands the importance of the increasing impact that the Internet and software are making on our way of life, and is acutely aware of the problems inherent in handing control over to multi-national corporations, through the innocuous right to enforce "intellectual property".



Jack Nunn – constituency to be announced (London Region)



Jack Nunn is a semi-professional musician who has previously worked with the Pirate Parties internationally and believes that the Pirate movement "is fundamentally a civil rights movement, working to protect the human rights and basic freedoms of individuals". To this end he has recently contacted the Joint Committee on Human Rights about the impact of the Digital Economy Bill.



Mark Sims – East Ham



As an ICT teacher, Mark Sims (37) has a strong appreciation of the implications of copyright, patents, privacy and freedom of speech in the digital world. Mark feels that this understanding has been poorly demonstrated by Stephen Timms, Minister for Digital Britain, one of his opponents in East Ham.



Alexander van Terheyden – Bethnal Green and Bow



A financial expert with a long history of political campaigning, Alexander van Terheyden (29) has a strong understanding of both the social and economic impacts of copyright and patent law. Mr Van Terheyden wishes to reign-in the "big brother state" and defend civil liberties and freedom of speech.



Acc. to the Campaigns Officer, Peter Brett, the main thing for PPUK rite now is funds that are to be added in the collection that was being cultivated earlier through member subscriptions and the funds to be cultivated are more than £9,000.



He said, "This will be just enough for all our candidates to pay their deposits and to have a reasonable amount for publicity materials."



It seems like its going to be a big and a strong one. Lets see how good it gets and how much funds would be cultivated for the campaign.

By:-

EMUworld

February 4th , 2010Posted by:
Date:
Sunday, April 4th, 2010
1

| | |
| --- | --- |
| posted by (2010-04-04 12:15:34) | |

| | |
| --- | --- |
| | Fantastic, people are waking up to the severity of the situation and all over the world realising freedom is worth fighting for. PPUK get my vote! |
2

| | |
| --- | --- |
| posted by (2010-04-04 14:33:40) | |

| | |
| --- | --- |
| | Awesome go Andrew we full support you and we are with you all of us are with you RIGHT GUYS. :-))) |
3

| | |
| --- | --- |
| posted by (2010-04-04 15:05:16) | |

| | |
| --- | --- |
| | thats where my vote is going this year I normally vote labour never again after this bill |
4

| | |
| --- | --- |
| posted by (2010-04-04 17:36:59) | |

| | |
| --- | --- |
| | many thanks for info EMUworld,wish them all the best in the elections |
5

| | |
| --- | --- |
| posted by (2010-04-04 22:20:05) | |

thankss SaM and EMUworld FOR THIS INFORMATION
ET rocks

SHARING IS CARING
6

| | |
| --- | --- |
| posted by (2010-04-05 00:06:31) | |

| | |
| --- | --- |
| | i wish i had money to share(all mine is wrapped up in more bills then even bill gates would of imagined) I would donate some to UKPP, my involvement in USPP has made me realise without funding most rights groups dont stand a chance against Giant Media Conglomerates just backstabbing them qouting myth's as complete truth. |
7

| | |
| --- | --- |
| posted by (2010-04-05 10:33:00) | |

| | |
| --- | --- |
| | thx emuworld & SaM for the info labour has lost my vote "sharing is caring" |
8

| | |
| --- | --- |
| posted by (2010-04-07 06:21:25) | |

| | |
| --- | --- |
| | thanks for the article |
9

| | |
| --- | --- |
| posted by (2010-04-07 09:15:11) | |

| | |
| --- | --- |
| | this is very clever move everyone should and would Support them for sure ! |
10

| | |
| --- | --- |
| posted by (2010-04-07 10:29:47) | |

Ok SAM & EMU World.
So can we have a post that ET people can pledge their support
and info where we can help PPUK or donate. We could link to other (Sharing is Careing Sites)
An offical ET support page.
I will open the pledge with £20 for the BOX
Peace.
Articles Search
Most Popular Stories
Articles Categories
Articles Tags