"Golden Girls" star Rue McClanahan dead at 76

Added: Thursday, June 3rd, 2010
Category: Bit Torrent Freedom > The Industries Of Records, Gaming, Software, Movies
Tags:ET, p2p, Torrent, Piracy, Peer To Peer, Network, Hackers, Internet, BitTorrent, Google, utorrent, bitcomet, extratorrent, 2010, www.extrattorrent.com

many years ago when i was a kid back in the 1980's, Friday night consisted of shopping with the parents then home for tea, bath and a night in front of the television, with the likes of the Fall Guy and Golden Girls, The program was one of the best comedy's to ever come out of Hollywood for some time,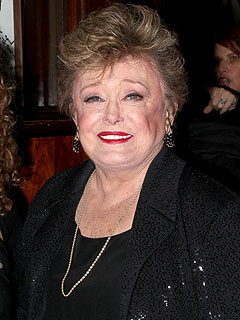 fast forward twenty years and i have grown up and i find my self sitting here writing this sad article as one more of the girls died today ?03 ?June ?2010, Rue McClanahan died today at 1 a.m due to a massive stroke,her agent told people today.. McClanahan suffered a stroke while recovering from heart bypass surgery earlier this year, she died peacefully with her family around her.

she is the third of the golden girls to die in the past 3 years with Bea Arthur's death in 2009 and Estelle Getty's death in 2008. leaving Betty White as the only surviving member of the cast.

best loved for her portrait as horny housewife Blanche Devereaux she enjoyed a 50-year television career that included standout roles in "Maude," "The Love Boat," and most recently "Law & Order" and Tyler Perry's "Meet the Browns."

Born in Healdton, Oklahoma,McClanahan attended the University of Tulsa before moving to New York City where she worked as a file clerk before finding success in the theater. She was a life-long animal welfare advocate and vegetarian and supported PETA.

McClanahan is survived by her sixth husband, Morrow Wilson, and her son Mark Bish.

In her 2007 book "My First Five Husbands and The One That Got Away," McClanahan wrote, "People always ask me if I'm like Blanche. And I say, 'Well, Blanche was an oversexed, self-involved, man-crazy, vain Southern Belle from Atlanta -- and I'm not from Atlanta.'"

By:-
punisher
June 3rd, 2010Posted by:
Date:
Thursday, June 3rd, 2010
1

| | |
| --- | --- |
| posted by (2010-06-03 20:39:54) | |

| | |
| --- | --- |
| | Man I used to love this show too when I was a kid. RIP Rue McClanahan. Thanks for the article Sam ;) |
2

| | |
| --- | --- |
| posted by (2010-06-03 20:46:21) | |

| | |
| --- | --- |
| | its punisher m8 :) |
3

| | |
| --- | --- |
| posted by (2010-06-03 21:03:34) | |

| | |
| --- | --- |
| | & to think Betty White was just on SNL the other week...Last one left of a TV era |
4

| | |
| --- | --- |
| posted by (2010-06-03 21:07:30) | |

| | |
| --- | --- |
| | so sad to hear about this, always related to her out of the rest of the girls...she was an older version of samantha...rather like an senior version of sex and the city only the originator |
5

| | |
| --- | --- |
| posted by (2010-06-03 21:49:35) | |

| | |
| --- | --- |
| | tis a sad day...rip |
6

| | |
| --- | --- |
| posted by (2010-06-03 23:28:24) | |

| | |
| --- | --- |
| | R.I.P |
7

| | |
| --- | --- |
| posted by (2010-06-03 23:36:58) | |

| | |
| --- | --- |
| | sad but true!thats life! |
8

| | |
| --- | --- |
| posted by (2010-06-04 02:24:19) | |

| | |
| --- | --- |
| | That is so sad...I used to watch that show.... |
9

| | |
| --- | --- |
| posted by (2010-06-04 13:14:27) | |

| | |
| --- | --- |
| | Ahhh yes, the days of televison fondly remembered. Back when you actually had to have talent and know your craft in order to have staying power. That was REALITY, to be able to relate and enjoy the sitcom and just be happily entertained. I will miss her, R.I.P. darlin' |
10

| | |
| --- | --- |
| posted by (2010-06-04 17:26:29) | |

| | |
| --- | --- |
| | Oops my bad: Thank you punisher then ;) |
11

| | |
| --- | --- |
| posted by (2010-06-05 20:11:29) | |

| | |
| --- | --- |
| | she will be missed she was a good character on the show betty white is the last one and there can be only one lol jk R.I.P blanche |
Articles Search
Most Popular Stories
Articles Categories
Articles Tags