The Pirate Bay Failed to Secure Users' Data

Added: Saturday, July 10th, 2010
Category: About Torrents > Staying Safe And Secure
Tags:ET, p2p, Torrent, Piracy, Peer To Peer, Network, Hackers, Internet, BitTorrent, Google, utorrent, bitcomet, extratorrent, 2010, www.extrattorrent.com

Security holes in the world's most popular BitTorrent tracker site The Pirate Bay have exposed the usernames, e-mails and IP addresses of over 4 million tracker users.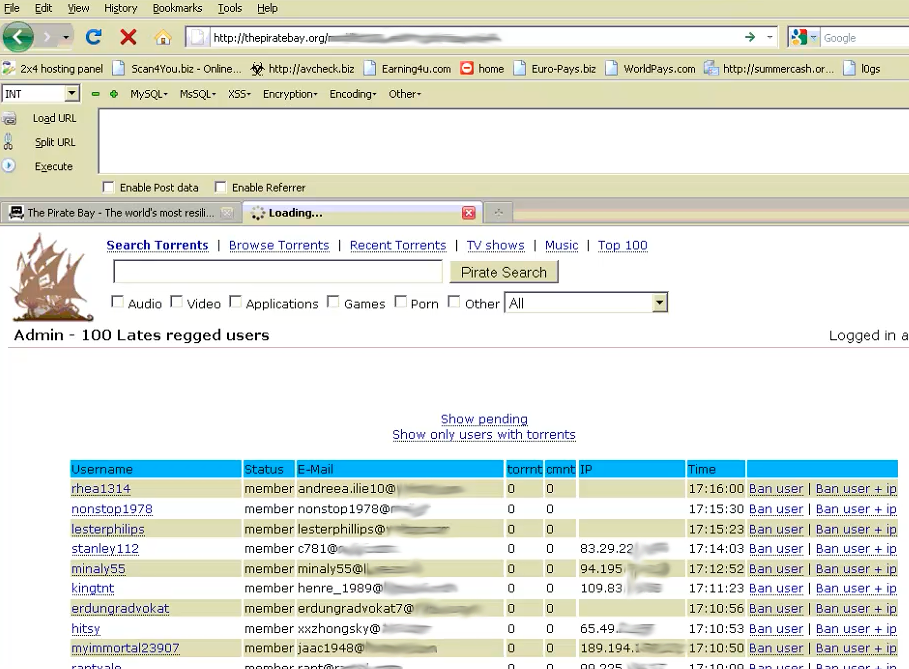 Here you might find yourself if you are a newcomer to thepiratebay.org, as it's a screen shot of the site's admin panel displaying new users. That's what an Argentinian hacker Ch Russo altogether with two associates appeared to be able to access in the user database due to multiple SQL weaknesses of the site. A young hacker was able to create, delete, change or view any of user personal information, alongside with the number and names of torrents uploaded by each user.

Russo declared that neither he nor his associates have ever modified or deleted data in the website's database. Instead, he points out that everyone should consider how much such access to this information could be worth to anti-piracy outfits operating from the name of entertainment industry, such as the RIAA and the MPAA. It's not a secret for anyone that they both have been long dreaming of sinking The Pirate Bay, accusing it of facilitating copyright infringement. Their efforts have largely failed, but the groups have been suing individual file-sharers for alleged copyright infringement, often claiming substantial damages in case defendants settled out of court. However, in every case the industry had to learn the user's real identities through sending subpoenas to ISPs based on the user's IP.

Although anti-piracy outfits might be very interested in receiving this information, hackers are not trying to sell it. They say all they wanted was to make people aware that their personal data may not be protected duly.

To make everyone believe they have really hacked the largest BitTorrent tracker, guys have posted the screen shots of the admin pages for thepiratebay.org.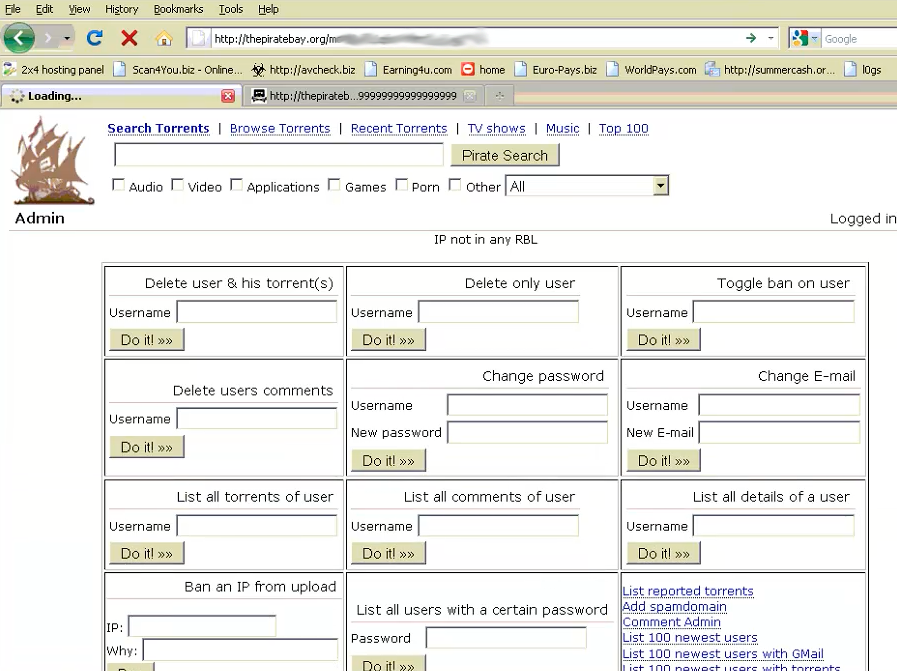 Russo, a 23-year-old Argentinean, seems to be a smart and bold guy. At his age he's already founded a subscription-based software vulnerability exploit service. He is hoping to market his Impassioned Framework service as a security auditing instrument. But in fact, the software appears to be in essence an exploit kit in the same style as other exploit packs like Eleonore – toolkits developed to be encoded into a site and examine visitor PCs for security holes.

By:
SaM
July 10th, 2010
Posted by:
Date:
Saturday, July 10th, 2010
1

| | |
| --- | --- |
| posted by (2010-07-10 12:02:29) | |

This is nothing new and the MPAA and RIAA already had hired hackers to do this very thing; we already know about it.
That is why many "smart" users use a bogus information; bogus information on an e mail like gmail. Use vpn and proxy servers. Finally and some think paranoid NOT use a sanitized system at their end and jack some one's unsecured wireless connection.
IT IS DONE ALL THE TIME... If you did not know then ur a NOOB....
2

| | |
| --- | --- |
| posted by (2010-07-10 12:22:00) | |

| | |
| --- | --- |
| | lol....ahhh yes, good 'ol injection. there r many tools out there that simplify it. from what i understand though (at least in U.S) any information obtained illegally isn't allowed in court. therefor, since they hacked piratebay whatever info they "sell" is worthless as long as you can prove your system was illegally monitored.....which means, if law enforcement aren't the ones watching you.....you get my point. the only thing you really need to worry about here is the info gathered by a hacker in these instances to be used for there own malicious purpose. law enforcement can go on the "tip" from a hacker, but need to conduct their own investigation. i take this read as knowledge to know what to ask in court...."how did u get the information you're accusing my client of?"......"we payed a hacker for it."....well there go's that "evidence"...i mean all this in the way of.....a drug officer can't do drugs to catch alleged drug offenders, a cyber geek can't commit cyber crimes to catch alleged cyber offenders. |
3

| | |
| --- | --- |
| posted by (2010-07-10 12:54:50) | |

| | |
| --- | --- |
| | and as a confidence booster to all my E.T peeps.....4uck the riaa and the mpaa!!!! |
4

| | |
| --- | --- |
| posted by (2010-07-10 15:48:25) | |

| | |
| --- | --- |
| | still tpb is the biggest and most popular torrent site and as always they will fix this security breach , thanks for article SaM |
5

| | |
| --- | --- |
| posted by (2010-07-11 15:53:26) | |

| | |
| --- | --- |
| | I hope they do, I most likey havent used them directly in years, but that was the first site I discovered other than Napster and Limewire and they might have my name on the account info... grr for an old unused account. |
6

| | |
| --- | --- |
| posted by (2010-07-12 11:35:37) | |

| | |
| --- | --- |
| | yeah since the security breach there i have received endless "enlarge your penis emails" ;) how do they know so much about me anyway ? LMAO :)) |
7

| | |
| --- | --- |
| posted by (2010-07-12 22:53:00) | |

| | |
| --- | --- |
| | well its not the first time this habben back in 2007 if i rememebre right + would be nice to hear from TPB what they have to say |
Articles Search
Most Popular Stories
Articles Categories
Articles Tags