France's President Called "Three-Strikes" Moral Imperative

Added: Monday, October 18th, 2010
Category: Recent Headlines Involving File Sharing > Current Events
Tags:ET, p2p, Torrent, Piracy, Peer To Peer, Network, Hackers, Internet, BitTorrent, Google, utorrent, bitcomet, extratorrent, 2010, www.extrattorrent.com

Nicolas Sarkozy said that it is very important that the country gains control of the web to handle the excesses and abuses caused by the total absence of rules.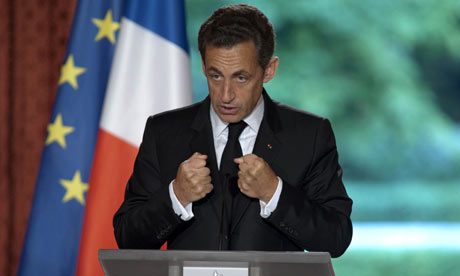 French President has been making it clear over the years that he personally favors the stricter regulation of the web, although all the initiatives in this field caused the reasonable concerns of his critics.

Actually, Nicolas Sarkozy was among the first country's politicians who suggested to endorse plans of implementing a "three-strikes" regime allowing to disconnect alleged file-sharers from the web. This suggestion later became a project of the highly controversial "Creation and Internet Law", which finally passed in the end of last year.

Moreover, French President even considered the possibility to tax Google, Facebook, Yahoo, MSN, and other major web portals in order to help finance musicians in the country, at the same time ignoring the fact that it would be consumers who will have to bear expenses in the end.

Recently, in his speech delivered to the Embassy of France to the Holy See, the President clarified that even more needs to be done, pointing out that the government should further tighten its grip on the web. What he said in his speech was that regulating Internet in order to fix the excesses and abuses caused by the total absence of rules in the country is really a moral imperative, highlighting that without such "rules" there would be no society life, no economy, and no freedom.

However, it's unclear to what length the government is required to control those suggested "excesses" and "abuses". Moreover, it isn't clear who would have to define them.

A week ago, Nicolas Sarkozy compared unauthorized file-sharing to stealing from supermarkets, while failing to understand that there's an endless supply of product available in the shops which majority wouldn't most likely have otherwise purchased. Besides, stealing things can't be accurately compared with digital stealing, because unauthorized file-sharers later can pay for attending the musicians' live performances or buy their merchandise.

Unfortunately, the only conclusion that can be made from the French President's speech is that he is planning to come up with the suggestions to control those "abuses" and "excesses" which would be as ill as those demanding disconnecting households from the web.

By:
SaM
October 18th, 2010
Posted by:
Date:
Monday, October 18th, 2010
1

| | |
| --- | --- |
| posted by (2010-10-18 19:47:42) | |

hi the french have been hear befor the marginot line this was to stop the germans and other from afecting there lives and did it work well a big NO NO NO but ell presadenty has lost that part of history because it does not suit his agenda
long live the revolution and a free french net
Articles Search
Most Popular Stories
Articles Categories
Articles Tags