The Id10t's guide to making a DVD with WinAVI Video Converter.
This is relatively simple (to use) software, and does not allow for much user input, or encoding options, except encoding an avi, and putting it into the correct container, to burn a dvdr. For a quick and simple way to get video to dvd, it works rather well, and puts out a remarkably good quality dvd, even on it's "Speed" setting.
Using WinAVI Video Converter.
From it's first menu screen, select the larger DVD button.
You are immediately presented with a window, in which you browse your computer and find the avi file you wish to make into a dvd.
Click on that file, and you are shown the first of 2 option windows.
Here you must select the folder you want to hold the finished file, the "output directory".
Output format should be DVD, although the options for (S)VCD, mpeg2, and even non-standard VCD are available.
Click on the Advanced button.
Here is where you can choose the limited options available.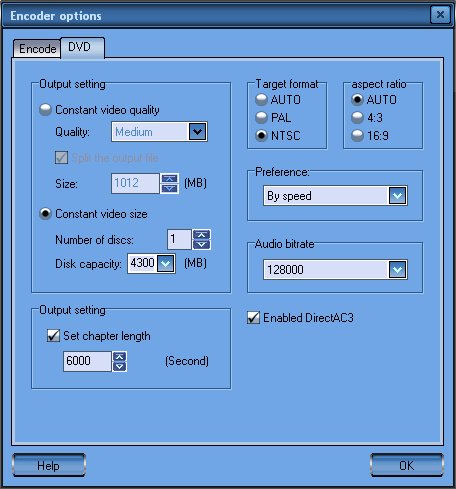 First, on the DVD tab, there is "Constant video quality", and "Constant video size".
If you choose Constant video quality, you must specify the quality you want, rated from Lowest to Highest.
Lowest may produce an inferior video that is difficult to watch. Highest may produce a video that is so large, it must be split into multiple disks. Medium may produce a video that is slightly too large for one disk, and a waste of space to burn on two.
No matter what quality you choose, you must also select to split the file or not, and if so, split it at what size.
DVDR is 4300MB, so don't choose a number larger than that, unless you are prepared to use DVDShrink or similar program later. In which case, it is redundant to encode at a high bitrate, if you're going to lower it later.
Much easier, is to choose Constant Video Size.
Disk Capacity is 4300MB, and 1 disk.
This will guarantee that the whole video will fit on one dvdr.
The next option is for chapter points. WinAVI allows you to set chapter points only by time. If you want a chapter every 10 minutes, set this to 600 (10 min times 60 seconds = 600 seconds). Remove the tick mark if you don't need any chapters.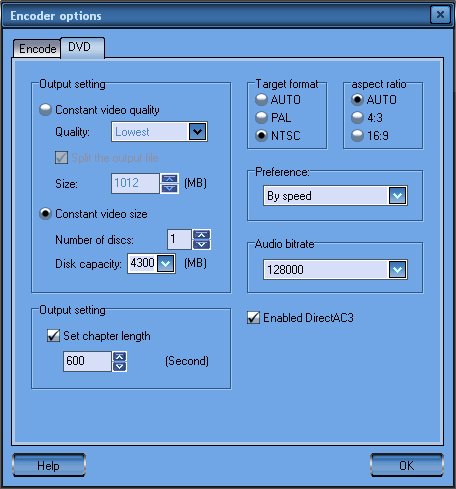 The next option is to choose the target format, based on your location. Auto will encode the video at the same format that it was recorded in. NTSC for North America (and a few other places) and PAL for most of Europe (and a few other places).
Aspect ratio is next. This can be a very confusing setting, but is fairly simple to figure out.
Get Gspot, and open the avi. It will show you the size of the video.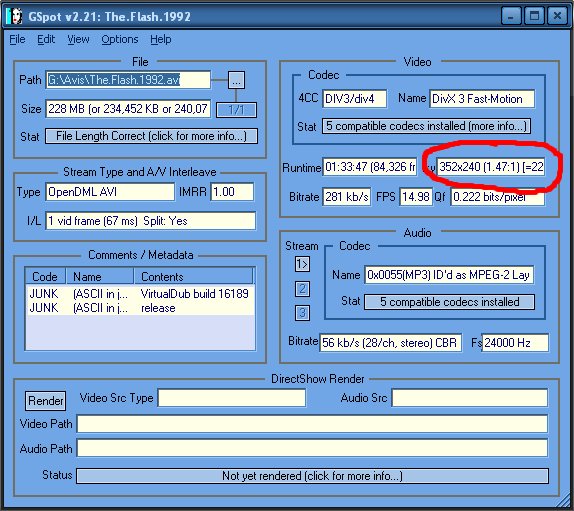 The choices WinAVI gives us is Auto, 4:3 and 16:9.
Auto is going to select the closest aspect to the original. In this case 4:3 (352 is approximately 1.47 times 240)
If it were a 16:9 video, Gspot would report 1.8:1
Next is something called "Preference", and the two choices are By Speed, or By Quality.
By Speed, in this case, ignores picture quality (or lack of) in favor of producing the output as quickly as possible.
By Quality, is ignores speed, in order to produce the best quality it can.
Output of the first is generally within the size you specified, but can vary a fair bit. Output of the second is better quality, but only very slightly, and adds a significant amount of time to the process. Sometimes double.
The last two options on this screen are for audio. Bitrate recommended is 128000 or more, although going past 224 is probably a waste, unless you have a VERY high quality avi, encoded with Dolby digital 5.1 audio, then select 224000, and please leave the tick in the box marked "Enable Direct AC3". If the avi was encoded with AC3 audio, the original audio will be used in the mpeg output, thus no loss in quality.
Next, on to the Encode tab.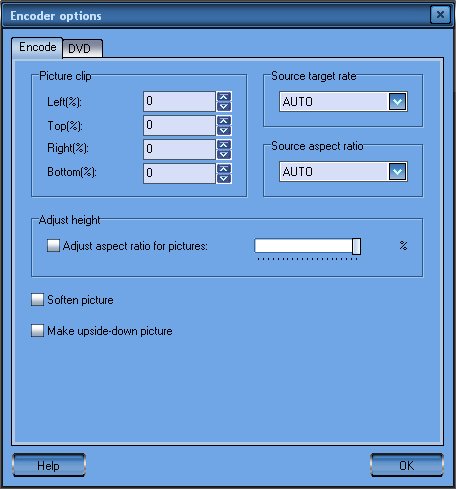 Picture Clip is used to crop portions of the video. If you have an anamorphic avi for input, you can correct it's aspect here. The detailed settings for this are beyond the scope of this guide. (In other words, I haven't got a clue here either )
Source target rate allows you to manually select the source avi's framerate. Why? I haven't got a clue. Leave it on Auto.
Source aspect ratio allows you to manually select the source avi's aspect ratio. Again Why? Leave it on Auto.
Adjust aspect ratio for pictures. This is anyone's guess. Don't put a tick mark in, who knows what it will do.
Soften picture does just that. If the video input is harsh, maybe too much contrast, and you want everything to look like you're watching it through frosted glass, tick this box.
Make upside-down picture. OK, If you want to watch your videos while standing on your head, check this box.
Click OK.
Click OK again.
Fortunately it has a fairly fast encoder engine, and a 1.5 hour avi should take between 40 and 80 minutes to encode (depending on if you chose Speed, or Quality above).
It's output resides in a folder called "dvd_0" and is in the form of an AUDIO_TS folder, and a VIDEO_TS folder.
Nero, and most other good burning software, will burn these two folders directly to dvdr.
You can test your output in a good software player such as WinDVD or PowerDVD, and I recommend doing this before burning.
Cheers, and happy DVDing
reboot