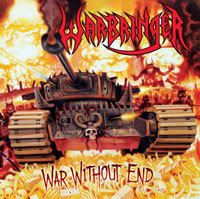 Warbringer - War Without End Promo 2008
01. Total War 04:30
02. Systematic Genocide 03:49
03. Dread Command 02:53
04. Hell on Earth 03:17
05. At the Crack of Doom 03:41
06. Beneath the Waves 03:50
07. Instruments of Torture 03:36
08. Shoot to Kill 03:13
09. Born of the Ruins 03:47
10. Combat Shock 03:52
11. A Dead Current 03:03
Total Playing time: 39:31
Band Members:
John Kevill vocals
Adam Carroll guitars
John Laux guitars
Andy Laux Bass
Ryan Bates Drums
Los Angeles thrashers WARBRINGER have just revamped
their official MySpace page to support the release of
their vicious debut offering, "War Without End", which
is set for a February 5, 2008 release through Century
Media Records in the U.S. (February 25 in Europe).
"War Without End", recorded by legendary thrash
producer Bill Metoyer (SLAYER, DARK ANGEL, D.R.I.), is
shaping up to be one of the most talked about debuts to
come along in years and is destined to add another
glorious chapter to thrash metal's illustrious history.