INFO:
=========================
Title: Three Colors: Red
Original title: Trzy Kolory: Czerwony
Country: France / Poland / Switzerland
Genre: Drama
Release date: ? May 1994 (Cannes Film Festival)
Directed by: Krzysztof Kieslowski
Screenplay by: Krzysztof Kieslowski, Krzysztof Piesiewicz
Cinematography by: Piotr Sobocinski
Music by: Zbigniew Preisner
Runtime: 99 min
IMDB: 8.1/10 (17,260 votes)
http://www.imdb.com/title/tt0111495/
Screenshots: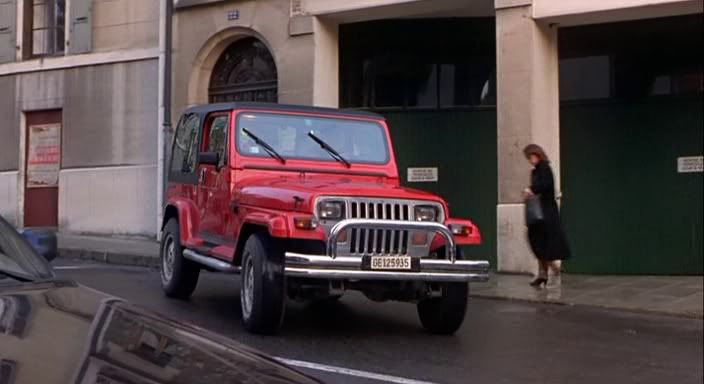 PLOT SUMMARY:
=========================
Valentine is a young model living in Geneva. Because of a dog she ran over, she meets a retired judge who spies his neighbours' phone calls, not for money but to feed his cynicism. The film is the story of relationships between some human beings, Valentine and the judge, but also other people who may not be aware of the relationship they have with Valentine or/and the old judge. Redemption, forgiveness and compassion...
CAST:
=========================
Irene Jacob ... Valentine Dussaut (as Irene Jacob)
Jean-Louis Trintignant ... Le juge
Frédérique Feder ... Karin (as Frederique Feder)
Jean-Pierre Lorit ... Auguste Bruner
Samuel Le Bihan ... Le photographe (Photographer) (as Samuel Lebihan)
Marion Stalens ... Le Vétérinaire (Veterinary surgeon)
Teco Celio ... Le barman (Barman)
Bernard Escalon ... Le disquaire (Record dealer)
Jean Schlegel ... Le voisin (Neighbour)
Elzbieta Jasinska ... La femme (Woman)
Paul Vermeulen ... L'ami de Karin (Karen's friend)
Jean-Marie Daunas ... Le gardien du théâtre (Theatre manager)
Roland Carey ... Le trafiquant (Drug dealer)
TECH. INFO:
=========================
Language..........: French
Subtitles.........: English in SRT format, Polish in .txt file
Size..............: 1.07 GB
Runtime...........: 1:39:19
Video Codec.......: XviD 1.1.2 Final
Video Bitrate.....: 1253 kbps
Framrate..........: 23.976 fps
Resolution........: 704 x 384
Audio track: #1
Audio Codec.......: 0x2000 (Dolby AC3) AC3
Audio Bitrate.....: 192 kb/s, CBR, Stereo
Sample Rate.......: 48000Hz
Audio track: #2 (Audio Commentary With Annette Insdorf)
Audio Codec.......: 0x0055 MPEG-1 Layer 3
Audio Bitrate.....: 96 kb/s, CBR, Stereo
Sample Rate.......: 44100Hz