INFO:
=========================
Title: A Short Film About Love
Original title: Krótki Film o Milosci
Country: Poland
Genre: Drama
Release date: 21 October 1988 (Warsaw)
Directed by: Krzysztof Kieslowski
Screenplay by: Krzysztof Kieslowski, Krzysztof Piesiewicz
Cinematography by: Witold Adamek
Music by: Zbigniew Preisner
Runtime: 83 min
IMDB: 8.3/10 (1,753 votes)
http://www.imdb.com/title/tt0095467/
Screenshots: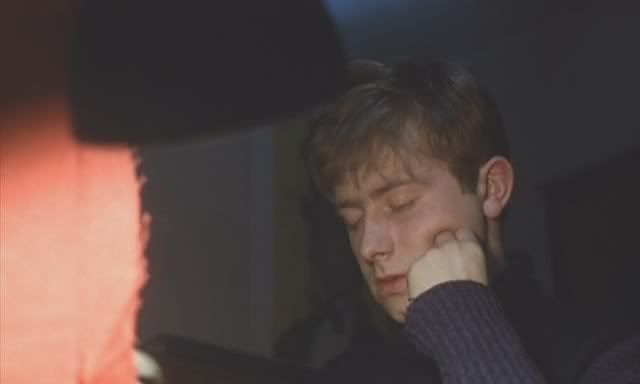 PLOT SUMMARY:
=========================
19-year-old Tomek whiles away his lonely life by spying on his opposite neighbour Magda through binoculars. She's an artist in her mid-thirties, and appears to have everything - not least a constant stream of men at her beck and call. But when the two finally meet, they discover that they have a lot more in common than appeared at first sight...
CAST:
=========================
Grazyna Szapolowska ... Magda
Olaf Lubaszenko ... Tomek
Stefania Iwinska ... Godmother
Piotr Machalica ... Roman
Artur Barcis ... Young Man
Miroslawa Chojnacka
Stanislaw Gawlik ... Postman
Tomasz Gradowski
Rafal Imbro
Jan Piechocinski
Krzysztof Koperski ... Gasman in Magda's Apartment
Hanna Chojnacka ... Miroslawa
TECH. INFO:
=========================
Language..........: Polish
Subtitles.........: English in SRT format
Size..............: 689 MB
Runtime...........: 1:23:05
Video Codec.......: DivX 3 Low-Motion
Video Bitrate.....: 958 kbps
Framrate..........: 23.976 fps
Resolution........: 640 x 384
Audio Codec.......: 0x2000 (Dolby AC3) AC3
Audio Bitrate.....: 192 kb/s, CBR, Stereo
Sample Rate.......: 48000Hz