This torrent was uploaded from www.TheBox.bz - the home of all British TV
Eunuchs
Tuesday 26 February
11:05pm - 12:05am
Channel 4
I've just seen a Benedictine monk's vagina. Truly Channel 4 has taken recent criticism of its failure to adhere to its original public-service remit to heart. Getting Reverend Brother Shawn Francis Benedict to kick up his heels and give us a bird's eye view of his unusually punctuated perineum ("That's my urethral relocation there") was certainly innovative. I feel informed, entertained and ever so slightly like I am about to have a stroke.
Brother Benedict, who now runs the Ray of Hope church for gays, lesbians, eunuchs, transgender people and enlightened heterosexuals in Elmira, New York, was in many ways the star turn of Eunuchs, a documentary focusing on four of the alleged thousands of men who wish to be permanently estranged from their testicles. He had his balls removed in 1998, two years after his ordination.
Brother Benedict is in fact admirably committed to the pleasures of the flesh. He now injects testosterone to maintain his sex life with his partner, another eunuch. Now called Christina, she takes oestrogen but doesn't have a vagina because she can't afford one yet. "It costs $40,000 to $60,000," says Brother Benedict, ruefully. Still, I wouldn't bet against a man of his indomitable spirit finding a way of funding it one day.
We also met Bill, who got fed up being at the mercy of a libido that forced him to spend hours masturbating or seeking out sex with random men and women - so went out and bought a burdizzo. For those of you who really want to know, a burdizzo is a big stainless-steel clamp designed to crush the spermatic cord and cut off the blood supply to the testicles, which are then gradually reabsorbed by the body over the years. Ideally, it is applied by trained professionals to the genitalia of animals. With the kind of pioneering spirit that made his country great, Bill applied it to himself, and posted the resulting pictures of his screaming scrotum on the net. They lent a whole new dimension to the word "discombobulating".
Bill is looking into proper surgical removal of his unwanted cojones and Brother Benedict and Christina are getting married. Oh, and advertising for a slave. "Must supply own vagina." I think I'm making that last bit up, but I can't be sure.
Brother Benedict and 'Christina' (on right).
The Burdizzo:w00t: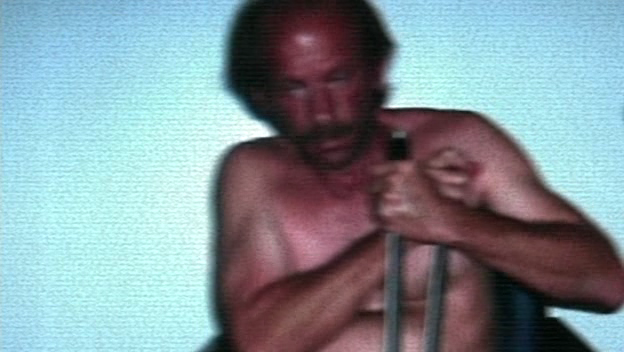 Bill 'getting to grips' with the Burdizzo (don't worry about the quality of this shot - it's like that in the programme - taken from his website)
WARNING!
Before this show was broadcast a warning was put out - "This programme contains detailed descriptions and footage of castrations and medical operations"
I know it bought a tear to my eye:-O
STAFF PLEASE NOTE
This is a UK production and listed as UK by IMDB -
http://imdb.com/title/tt1002530/
=== File Information ===
File Name: Eunuchs.avi
Duration: 00:47:43 (71,571 fr)
File Size: 384 MB (or 393,928 KB or 403,382,272 bytes) bytes
=== Video Information ===
Video Codec Name: XviD
Video Bitrate: 987 kb/s
Bits / Pixel: 0.180 bits/pixel
Resolution: 624x352 (1.77:1) [=39:22]
Frames Per Second: 25.000 fps
=== Audio Information ===
Audio Codec: 0x0055(MP3) ID'd as MPEG-1 Layer 3
Audio Bitrate: 132 kb/s (66/ch, stereo) VBR LAME3.90
Frequency: 48000 Hz
===============================
Some of the other rather spiffing shows available now and always if you signup @ www.TheBox.bz:
Comedy: The Office, Peep Show, Coupling, Chef, Fawlty Towers, Only Fools and Horses, The IT Crowd, Brass Eye, Nathan Barley, Young Ones, Monty Python, Blackadder, Alan Partridge, Father Ted, Coupling, Little Britain, Mr Bean, Extras, Green Wing, Mighty Boosh
Drama: Casualty, Holby City, The Bill, Hustle, Skins, Shameless, Ashes To Ashes
Entertainment: Faking It, Derren Brown, Scrapheap Challenge, Strictly Come Dancing, Wife Swap
Game/Quiz Shows: Whose Line Is It Anyway?, Have I Got News For You, Deal Or No Deal (UK)
Education/Documentary: Planet Earth, Horizon, Panorama, Mark Thomas (Comedy) Product
Food: Hell's Kitchen, Jamie Oliver, The F Word, Kitchen Nightmares, Masterchef, Great British Menu, Gordon Ramsay's Cookalong
Home/Property/Garden: Property Ladder, How Clean Is Your House?, Changing Rooms, Grand Designs, Homes Under The Hammer, To Buy Or Not To Buy
Motoring: Top Gear, Fifth Gear
Music: Top Of The Pops, Jools Holland
Reality: Big Brother, Celebrity Big Brother, I'm a Celebrity - Get Me Out of Here!, Any Dream Will Do, Grease, Pop Idol, Wife Swap, X Factor, Badger Or Bust, Apprentice UK, Dragons' Den
Sci-Fi: Doctor Who, Red Dwarf, Torchwood
Sport: Football (Soccer), Cricket, Rugby, Snooker, Darts, Formula One (F1GP)
Soaps: Eastenders, Coronation Street, Emmerdale, Neighbours, Hollyoaks
Style/Fashion: What Not To Wear, Project Catwalk
Kids: Teletubbies, Blue Peter, Tikkabilla, Andy Pandy, Postman Pat, Shoebox Zoo, Brum, Bob The Builder, Young Dracula, Sarah Jane Adventures, Shaun The Sheep