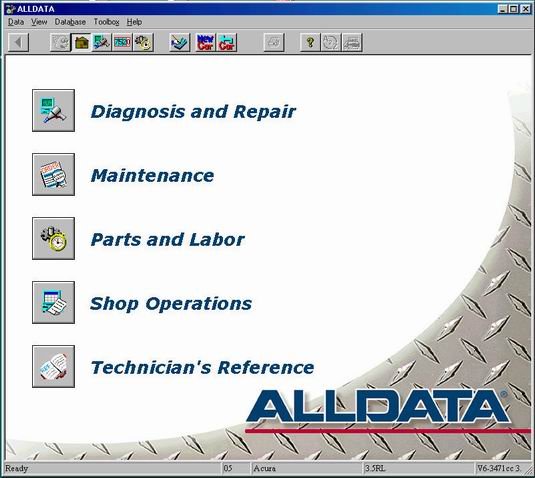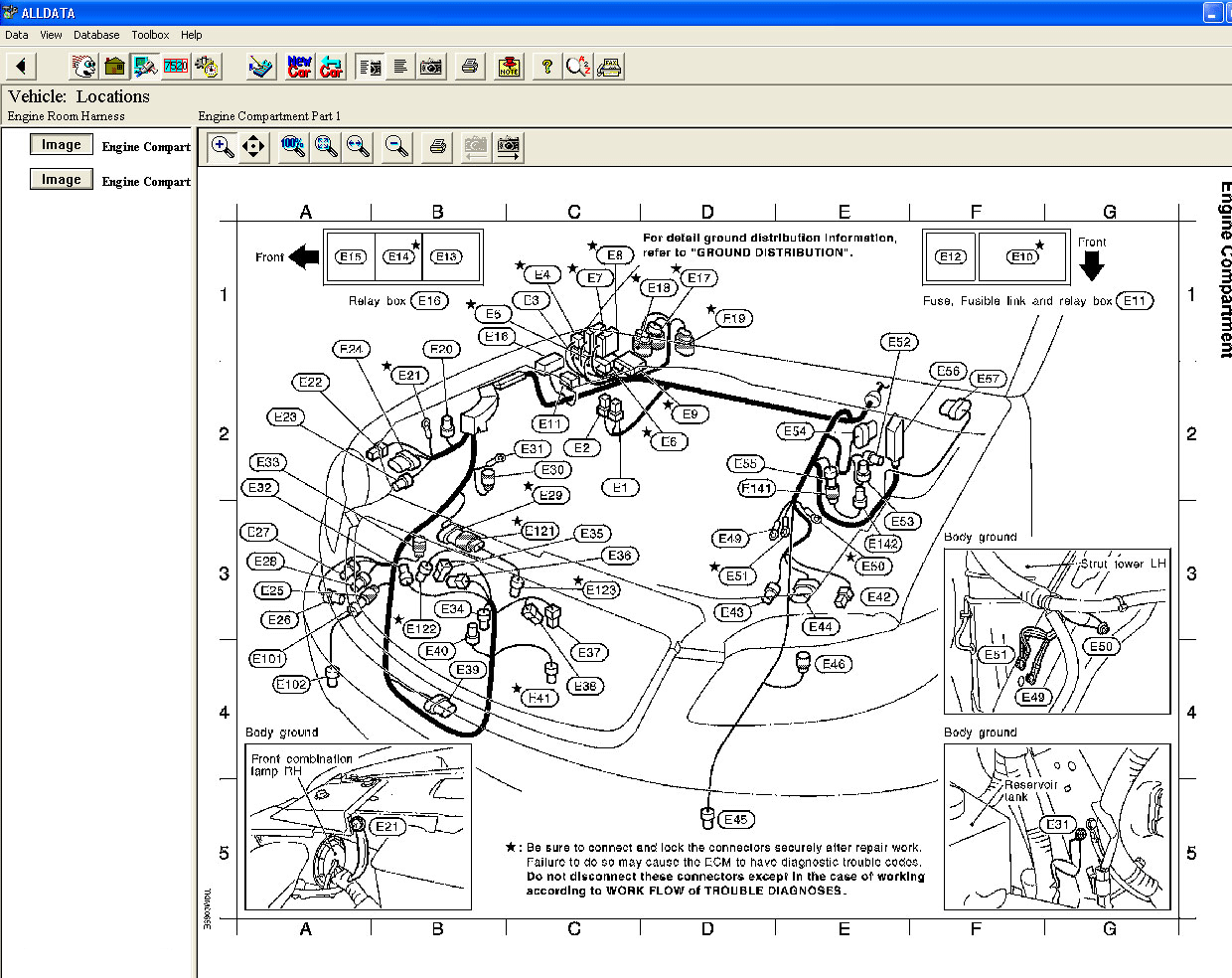 ALLDATA the leading provider of vehicle manufacturers' service and repair information for professional repair shops, announces the release of ALLDATA Repair S3000, the next generation of the market-leading ALLDATA Repair information product.
ALLDATA Repair is a powerful, easy-to-use online tool for shops of all sizes. The information is unedited and updated regularly thanks to our close partnerships with the manufacturers. We are your one-stop information resource, eliminating the need for bulky, obsolete paper auto repair manuals, edited online auto repair manuals, or costly multiple OE website subscriptions.
Increase technician efficiency and build customer loyalty as you accurately and efficiently repair more makes and models with ALLDATA Repair. Throw away that obsolete paper auto repair manual and join the hundreds of thousands of technicians who rely on ALLDATA Repair every day.
Ace.exe Is the crack copy and replace it in the install folder wich will be in local disc c:alldata
This includes ALL of the DVD's in version 10 of Alldata Repair. 6 DVD's for domestic vehicles and 14 DVD's for imports.
These are dvd 9 or duel layer dvd. I use a virtual drive to mount the image such as deamon tools or power iso works well this way.
I have personally installed this on XP 32bit , XP 64bit, and on Windows 7 64bit and it installs and works flawlessly.
Install using the iso in the install folder and run using the Ace.exe in the install folder.....after installation, you could make a shortcut to Ace.exe on your desktop and rename it Alldata.exe, which is what i did.
Here is the list on the dvds:
Here is the coverage for each disc:
DM1Q309.iso - Domestic #1 1982-2009
Chrysler Cars 1982-04
Dodge Cars 1982-04
Eagle Cars 1982-98
Ford Trucks 2004-09
Lincoln Trucks 2004-09
Mercury Trucks 2004-09
Plymouth Cars 1982-01
DM2Q309.iso - Domestic #2 1982-2009
Chrysler Trucks 1990-09
Dodge Trucks 1982-09
Jeep Truck 1982-09
Plymouth Trucks 1982-00
DM3Q309.iso - Domestic #3 1982-2004
Buick Trucks 2002-04
Cadillac Trucks 1999-04
Chevy Trucks 1982-04
Ford Trucks 1982-03
GMC Trucks 1982-04
Geo Trucks 1989-97
Lincoln Trucks 1998-03
Mercury Trucks 1993-03
Oldsmobile Trucks 1990-04
Pontiac Trucks 1990-04
DM4Q309.iso - Domestic #4 1982-2009
Chrysler Cars 2005-09
Dodge Cars 2005-09
Ford Cars 1982-09
Lincoln Cars 1982-09
Mercury Cars 1982-09
DM5Q309.iso - Domestic #5 1991-2009
Buick Cars 2005-09
Buick Trucks 2005-09
Cadillac Cars 2005-09
Cadillac Trucks 2005-09
Chevrolet Cars 2005-09
Chevrolet Trucks 2005-09
GMC Trucks 2005-09
Hummer 2003-09
Oldsmobile Trucks 2002-04
Pontiac Cars 2005-09
Pontiac Trucks 2005-09
Saturn Cars 1991-09
Saturn Trucks 2002-09
DM6Q309.iso - Domestic #6 1982-2004
Buick Cars 1982-04
Cadillac Cars 1982-04
Chevrolet Cars 1982-04
Geo Cars 1989-97
Oldsmobile Cars 1982-04
Pontiac Cars 1982-04
IMP1Q309.iso - Import #1 1982-2010
Acura Cars 1986-09
Acura Truck 1996-09
Honda Cars 1982-10
Honda Trucks 1994-09
Subaru Cars 1982-95
Subaru Trucks 1982-88
Suzuki Cars 1989-95
Suzuki Trucks 1986-95
Jaguar 1982-09
IMP2Q309.iso - Import #2 1986-2009
Daihatsu Cars 1988-92
Daihatsu Trucks 1990-92
Daewoo 1999-02
Hyundai Cars 1986-09
Hyundai Trucks 1986, 2001-09
Infiniti Cars 1990-09
Infiniti Trucks 1997-09
Subaru Cars 1996-09
IMP3Q309.iso - Import #3 1982-2010
Isuzu Cars 1982-93
Isuzu Trucks 1982-08
Kia Cars 1993-10
Kia Trucks 1995-09
Suzuki Cars 1996-09
Suzuki Trucks 1996-09
IMP4Q309.iso - Import #4 1990-2010
Lexus Cars 1990-09
Lexus Trucks 1996-10
IMP5Q309.iso - Import #5 1982-2010
BMW: Mini 2002-09
Mazda Cars 1982-10
Mazda Trucks 1982-09*
Mitsubishi Cars 1983-06
Mitsubishi Trucks 1983-95
* 1985 Mazda Truck not produced
IMP6Q309.iso - Import #6 1982-2010
Mitsubishi Cars 2007-09
Mitsubishi Trucks 1996-09
Nissan Cars 1982-09
Nissan Trucks 1982-09
Scion 2004-10
IMP7Q309.iso - Import #7 1982-2010
Toyota Cars 1982-10
Toyota Trucks 1982-05
IMP8Q309.iso - Import #8 2006-2009
Land Rover 2007-09
Toyota Trucks 2006-09
IMP9Q309.iso - Import #9 1982-2010
Audi 1982-09
BMW 1982-10
IMP10Q309.iso - Import #10 1982-2009
BMW 1996-09
Land Rover 1987-06
Mercedes Benz 1982-01
IMP11Q309.iso - Import #11 1998-2009
Mercedes Benz Cars 2002-09
Mercedes Benz Trucks 1998-09
IMP12Q309.iso - Import #12 1982-2009
Porsche 2005-09
Volkswagen Cars 1982-03
Volkswagen Trucks 1982-03
IMP13Q309.iso - Import #13 1982-2010
Fiat 1982-83
Mercedes Benz Cars 2002-09
Porsche 1982-04
Renault 1982-87
Saab 1982-09
Volvo 1982-10
Yugo 1986-92
IMP14Q309.iso - Import #14 2004-2009
Volkswagen Cars 2004-09