http://p5.piczo.com/img/i196021816_56162_5.gif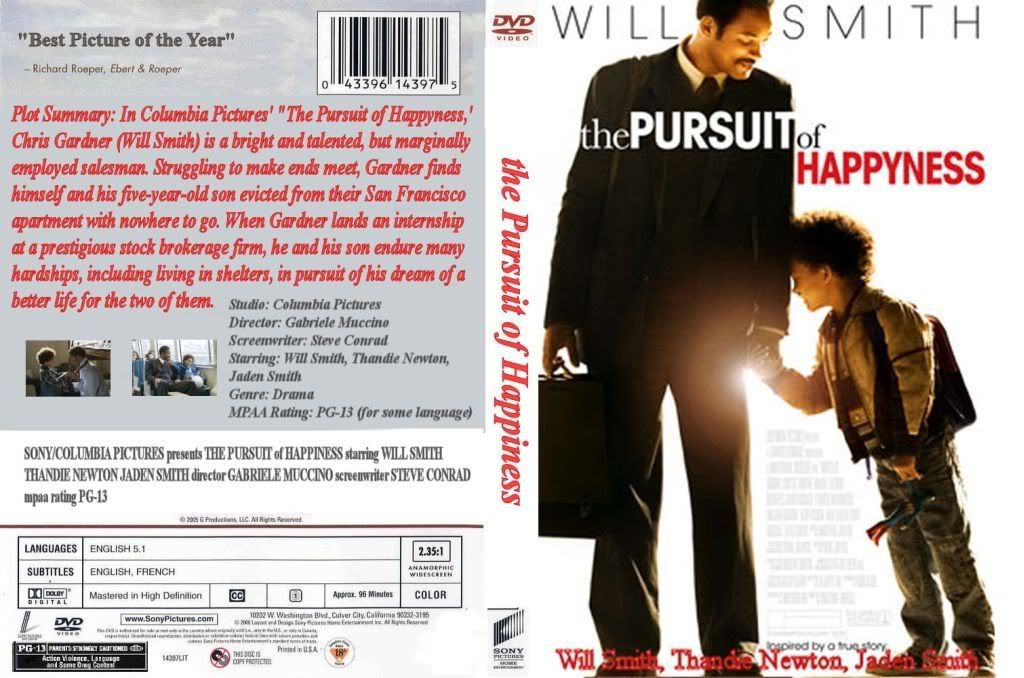 http://i164.photobucket.com/albums/u2/codeblack8989/The-2.jpg
CODEBLACK - PROUDLY PRESENTS
The.Pursuit.Of.Happyness[2006]DvDrip[Eng]-codeblack
---
---
R E L E A S E i N F O
---
---
DVD RIPPER...........[ codeblack
GENRE....................[ Biography / Drama
RUNTiME................[ 1:57:26
iMDB RATE.............[ User Rating: 7.4/10 (12,671 votes)
iMDB LINK..............[
http://www.imdb.com/title/tt0454921/
AUDiO.....................[ 48000Hz 112 kb/s tot , Stereo
ViDEO.....................[ 713 kbps XviD 23.976 FPS
QUALITY FRAME...[ 0.205 bits per pixel
RESOLUTiON.........[ 600 x 242 - 2.479 (57:23) Wide Screen
LANGUAGE............[ English
SUBTITLE...............[ YES Romanian Subtitle - Separate File - .srt Format For Romanian People .
If No Needed , No Copy .srt Subtitle File - Will Seen Always In Player.
Download Movie And Delete .srt Subtitle File - Will Never Seen Again.
SiZE.......................[ 701 MB (or 717,990 KB or 735,221,760 bytes)
SOURCE................[ PAL DVD
---
---
VIDEO INFO
---
---
Directed by
Gabriele Muccino
Writing credits (WGA)
Steve Conrad (written by)
Plot summary for
The Pursuit of Happyness (2006)
In 1981, Chris Gardner was a struggling salesman in little needed medical bone density scanners while his wife toiled in double shifts to support the family including their young son, Christopher. In the face of this difficult life, Chris has the desperate inspiration to try for a stockbroker internship where one in twenty has a chance of a lucrative full time career. Even when his wife leaves him because of this choice, Chris clings to this dream with his son even when the odds become more daunting by the day. Together, father and son struggle through homelessness, jail time, tax seizure and the overall punishing despair in a quest that would make Gardner a respected millionaire.
---
---
Cast overview
---
---
Will Smith ... Chris Gardner
Jaden Smith ... Christopher (as Jaden Christopher Syre Smith)
Thandie Newton ... Linda
Brian Howe ... Jay Twistle
James Karen ... Martin Frohm
Dan Castellaneta ... Alan Frakesh
Kurt Fuller ... Walter Ribbon
Takayo Fischer ... Mrs. Chu
Kevin West ... World\'s Greatest Dad
George Cheung ... Chinese Maintenance Worker (as George K. Cheung)
David Michael Silverman... Doctor at First Hospital
Domenic Bove ... Tim Ribbons
Geoff Callan ... Ferrari Owner
Joyful Raven ... Hippie Girl
Scott Klace ... Tim Brophy
All stand-alone DviX players compatible.
Burn tested. Enjoy !
http://www.videoonqproductions.com/images/film_reel_moving_hg_clr.gif
---
http://p5.piczo.com/img/i196617062_99530_5.jpg
---
http://p5.piczo.com/img/i196021816_56162_5.gif
---
SEARCH " codeblack " WORD AND DOWNLOAD ALL QUALITY DVDRIP MOVIES.
ENJOY FULL " codeblack " COLECTION . CLICK THIS LINK TO VIEW COMPLETE LIST OF MOVIES.
http://www.imdb.com/mymovies/list?l=26226035