http://p5.piczo.com/img/i196021816_56162_5.gif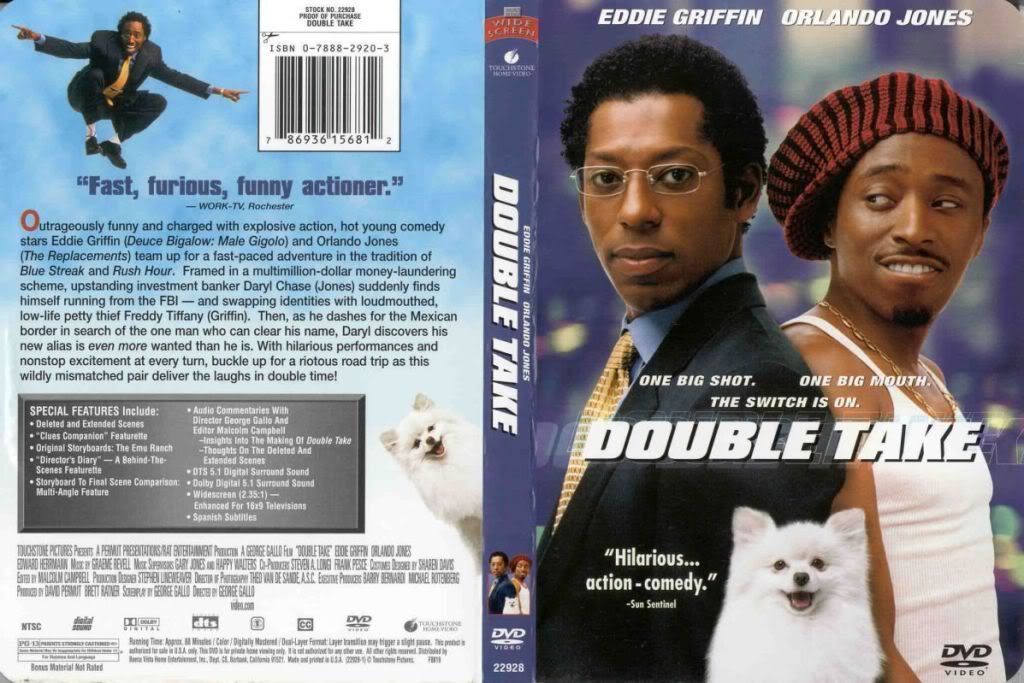 http://i164.photobucket.com/albums/u2/codeblack8989/Double.jpg
CODEBLACK - PROUDLY PRESENTS
Double.Take[2001]DvDrip[Eng]-codeblack
---
---
R E L E A S E i N F O
---
---
DVD RIPPER...........[ codeblack
GENRE....................[ Action / Comedy / Crime / Thriller
RUNTiME................[ 1:28:08
iMDB RATE.............[ User Rating: 4.7/10 (2,085 votes)
iMDB LINK..............[ http://www.imdb.com/title/tt0238948/
AUDiO.....................[ 44100Hz 128 kb/s Stereo
ViDEO.....................[ 972 kbps XviD 23.976 FPS
QUALITY FRAME...[ 0.233 bits per pixel
RESOLUTiON.........[ 640 x 272 - 2.353 (40:17) Wide Screen
LANGUAGE............[ English
SUBTITLE...............[ YES Romanian Subtitle - Separate File - .srt Format For Romanian People .
If No Needed , No Copy .srt Subtitle File - Will Seen Always In Player.
Download Movie And Delete .srt Subtitle File - Will Never Seen Again.
SiZE.......................[ 701 MB (or 717,964 KB or 735,195,136 bytes)
SOURCE................[ PAL DVD
---
---
VIDEO INFO
---
---
Directed by
George Gallo
Writing credits (WGA)
Graham Greene (story)
Guy Elmes
Plot summary for
Double Take (2001)
The governor of a Mexican state is assassinated. Soon after, junior executive Daryl Chase\'s life turns upside down: after he flags a huge transfer of funds from a Mexican account as probably illegal, he\'s attacked in his apartment, rescued by a CIA agent, finds his secretary shot dead, and witnesses two cops get killed. He calls the CIA guy who tells him to grab the next train to Mexico. Leaving Manhattan, Daryl can\'t shake a jive-talking street punk named Freddy, and soon he\'s traded clothes with Freddy to escape the police. Within days, his girlfriend, his boss, his client, Freddy, the FBI, and the dead governor\'s dog are tangled in a web of deceit and danger. Who\'s who?
---
---
Cast overview
---
---
Orlando Jones ... Daryl Chase
Eddie Griffin ... Freddy Tiffany
Gary Grubbs ... Timothy Jarret McReady
Daniel Roebuck ... Agent Norville
Sterling Macer Jr. ... Agent Gradney
Benny Nieves ... Agent Martinez
Garcelle Beauvais ... Chloe
Andrea Navedo ... Maque Sanchez
Edward Herrmann ... Charles Allsworth
Shawn Elliott ... Thomas Chela/Minty Gutierrez
Brent Briscoe ... Junior Barnes
Donna Eskra ... Kiki Barnes
Carlos Carrasco ... Capt. Garcia
Frank Pesce ... Vito
Julie Lott ... Julie
All stand-alone DviX players compatible.
Burn tested. Enjoy !
http://www.videoonqproductions.com/images/film_reel_moving_hg_clr.gif
---
http://p5.piczo.com/img/i196617062_99530_5.jpg
---
http://p5.piczo.com/img/i196021816_56162_5.gif
---
SEARCH " codeblack " WORD AND DOWNLOAD ALL QUALITY DVDRIP MOVIES.
ENJOY FULL " codeblack " COLECTION . CLICK THIS LINK TO VIEW COMPLETE LIST OF MOVIES.
http://www.imdb.com/mymovies/list?l=26226035