ESCAPE FROM L.A.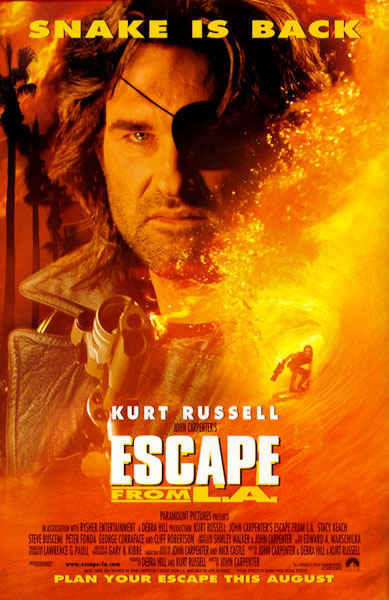 Director John Carpenter
Cast Kurt Russell, A. J. Langer, Steve Buscemi, Pam Grier, Stacy Keach, Georges Corraface, Michelle Forbes, Jeff Imadal, Cliff Robertson
Length 97 min
Distributor Paramount
Video Pal
Widescreen 2.35:1
Languages Dolby Digital 5.1: English, French, Italian, Spanish
Subtitles English, Croatian, French, Greek, Hebrew, Italian, Portuguese, Slovakian, Spanish
Other features
Interactive Menus, Scene Access, Theatrical Trailer
Synopsis
The man with the patch is back. Call him Snake. Kurt Russell rejoins filmmakers John Carpenter and Debra Hill to do to the Big Orange what he did to the Big Apple in Escape From New York -with even more futuristic thrills and slam-bang action! Into the 9.6-quaked Los Angeles of 2013 comes Snake Plisskin (Russell). His Job: wade through LAs ruined landmarks to retrieve a doomsday device. Dont miss the excitement as Snake surfs Wilshire Blvd., shoots hoops at the Coliseum, dive bombs the Happy Kingdom theme park, and mixes it up with a wild assortment of friends, fiends and foes (Stacey Keach, Steve Buscemi, Peter Fonda, George Corraface, Cliff Robertson, Pam Grier and more). Escape From LA is a "go-for-broke action extravaganza!" Roger Ebert, Chicago Sun-Times).
DVD9 to DVD5
DvD Decrypter + DVD Rebuilder + CEE (7 pass)
- Reduction Level for DVD-5: 64,5%
- Overall Bitrate : 4.395Kbs
- Space for Video : 3.154.252KB
- HIGH/LOW/TYPICAL Bitrates: 4.832/3.639/4.395 Kbs
More details:
www.mundovob.eu/foro
www.solodvd.org