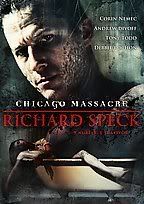 rnrn
http://www.imdb.com/title/tt0995033/
rnrnrnOn DVD 06-05-2007 rnrnA horror film based on a real-life mass murder that took place in 1966. rnrnrn rnrnrnMPAA
Rating: R
- for disturbing violence including rape, terror, sexuality, language, and some drug contentrnrnRuntime: 1 hour, 31 minutesrnrnGenre: Horror/Suspense rnrnrn
Synopsis:
rnrnThis shocking story of multiple murders is that much creepier because it\'s true. In 1966, Richard Speck terrorized nine nurses, raping and killing them in a brutal fashion. Corin Nemec (STARGATE SG-1) trades in the too-cool-for-school persona of PARKER LEWIS for the chilling character of Speck. Horror favorites Andrew Divoff (WISHMASTER), Tony Todd (CANDYMAN), and Fangoria Radio staffer Debbie Rochon complete the cast. rnrn
Codec: XvidrnSize: 699MBrnRuntime: 01:32:06rnResolution: 624x352 rnBitrate: 943 kb/srnFPS: 23.976rnAudio: English. No subs.rn112 kb/s (56/ch, stereo) CBR [/b
] rnrn
Show appreciation and seed.