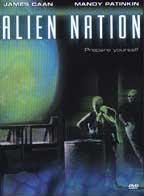 http://www.imdb.com/title/tt0094631/
Alien Nation (1988)
Rated R
89 mins
Sci-Fi
On DVD 06-06-2006
SYNOPSIS
Set in a futuristic Los Angeles, 300,000 humanoid extra-terrestrials (called "Newcomers" or "Slags") from an alien refugee slave ship decide to stay on earth and integrate themselves into human society. When Matthew Sykes, an alcoholic and bigoted cop, is paired with one of these Newcomers to investigate a murder, they uncover a sinister conspiracy that threatens to destroy the fragile harmony between aliens and humans.
REVIEW
How often do you find a science fiction movie that's saved from failure not by its special effects or wackily creative production design, but by strong characters and acting? It just doesn't happen often, which is one reason why so many sci-fi films don't stand up very well once their special effects lose their lustre.
Alien Nation overcomes the clichés of both science fiction and odd couple cop movies to succeed thanks in large part to James Caan, Mandy Patinkin and an intriguing premise.
The story is set in the then-near-future (early 1990s), when earth is home to refugees from outer space – 300,000 former space slaves called 'Newcomers.' Newcomers look very much like humans, except for slightly swollen heads, less prominent sensory organs and big brown freckles on their heads and backs. They've been assimilated into U.S. society (the movie misses an opportunity to observe varying cultural attitudes, as we never learn how Newcomers are faring in other countries). Taking this golden opportunity to view racism and xenophobia from the safety of science fiction, screenwriter Rockne S. O'Bannon and director Graham Baker paint a picture of tense co-existence, with Newcomers gradually becoming full members of society, despite the bigoted suspicion of many humans. Detective Sergeant Matthew Sykes (Caan) can be counted among the bigots, all the more so after a Newcomer guns down Sykes' partner during an apparent grocery store hold-up. Sykes, seething with anger, embarks upon an investigation, accompanied by a new partner, Samuel Francisco (Patinkin) – the first Newcomer to become a Los Angeles plain-clothes cop.
The story follows Sykes and 'George' (Sykes refuses to call his partner by his given name – Sam Francisco) as they track down the killers and discover a nefarious conspiracy. It's a crime mystery combined with an exploration of tolerance, as Sykes learns that George – and his fellow Newcomers – aren't as different as they first seem. And while none of the film's elements are exactly rocket science to pull off, the combination works. What the sci-fi story lacks is compensated for by character development and what the crime drama lacks is compensated for by the intriguing sci-fi premise.
The concept was catchy enough to inspire a television series and a whole gaggle of television movies over the decade that followed the movie's release, but it's really the performances of Caan and Patinkin that carry the movie. Caan – who was just getting back into big-screen acting after half a decade away due to 'personal problems' – is a perfect fit as the uncouth and swaggering, but ultimately open-minded Sykes. Patinkin delivers a thoughtful and sympathetic performance as the trailblazing Newcomer cop. The supporting characters, however, are negligible; Terence Stamp is wasted as the head bad guy.
Alien Nation is a sci-fi success despite its lack of special effects and a production design that – quite intentionally – shows Los Angeles of the near future as… Los Angeles. A good premise and strong performances is what this production depends on, and it's a modest success because it delivers both.
Codec: Xvid
Size: 700MB
Runtime: 01:29:57
Resolution: 624x352 (1.77:1)
Bitrate: 970 kb/s
FPS: 23.976
Qf: 0.184 bits/pixel
Audio: English. No sub.
112 kb/s (56/ch, stereo) CBR MP3
Show appreciation and help seed.
Visit us at: http://www.h33t.com/