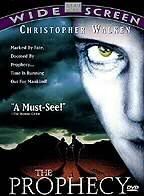 http://www.imdb.com/title/tt0114194/
The Prophecy (1995)
Rated R
1 hr 37 mins
Horror
SYNOPSIS
When some angry angels, including Gabriel, become jealous of God's love and affection for humans, they decide to band together and declare war on mankind. But first they must defeat the good angels, who vehemently oppose the plan. To accomplish this, the evil ones choose as their leader a war veteran who has just died. But to thwart their belligerent counterparts, the peace-loving cherubs grab the soldier's soul, and conceal it in the body of a young girl.
Will this tactic successfully derail the "bad" angels' anarchic agenda -- and save humanity in the process?
REVIEW
In ``The Prophecy'' Christopher Walken plays the angel Gabriel, who has had a falling-out with God. Gabriel is really miffed that humans are getting into heaven, so he launches a rebellion -- a rebellion that spills over onto Earth.
Strange to say but a miffed, nasty angel is about the ideal role for Walken these days. In recent years Walken has come to accept his weirdness, even to glory in it -- yet not wallow. Walken is very in control.
When a woman asks him, ``Who are you?'' Gabriel replies, after just the hint of a pause, ``That's a long story.'' Mixed in that answer is contempt, irony and a self- satisfaction that is partly Gabriel's, partly Walken's.
In ``The Prophecy,'' Gabriel/Walken is so pleased with himself and so annoyed at everyone else that everything out of his mouth has an edge of exasperated humor. Someone makes the mistake of asking him why he keeps tearing up bodies and ripping out souls. ``From now until the end of your days,'' he says, ``the only thing you
can count on is never understanding why.''
``The Prophecy,'' which opened yesterday, is the debut film of director Gregory Widen, who also wrote the screenplay. The picture tells a silly but theologically consistent story about a heavenly argument that brings in some major cosmic players, including the devil.
Interestingly, the devil here, Viggo Mortensen, has the same long, slicked- back hairstyle as the devil in ``Angel Heart,'' Robert De Niro. This is devil chic.
In ``The Prophecy'' Walken is looking for a particular evil soul to help him win the battle against God's angels. Eric Stoltz, a good angel, steals the soul and plants it inside the body of a little girl. So the picture is about Walken's struggle to find and kill the little girl, and the effort of a cop (Elias Koteas) to stop him.
As an incarnate being, Gabriel is not invincible -- though the movie never spells out the nature of his vulnerability. Sometimes gunshots stop him. Sometimes they just irritate him. The devil tells the cop that he should make Gabriel doubt his faith, but it turns out that strategy can't compare with running him over with a pickup truck and hitting him repeatedly with a tire iron.
Yet for all its goofiness, director Widen has made a film with some genuinely creepy moments. When the devil slinks up, clasps his arms around the cop and whispers in his ear, there's a chill in the air. Widen also has a knack for the unsettling detail -- quickly cutting from a scene of spiritual torment to the strangely stunned face of an angel in a religious statue.
And of course there's Walken, looking like the corpse of Prince Valiant with dyed black hair and white, crepey skin. Put the camera on Walken listening to someone else, and you can never guess his response. He can laugh, sneer, pick up a chair and hit somebody -- anything he does will make sense. You can never feel safe with him, and for this movie that's exactly right.
Codec: Xvid
Size: 798MB
Runtime: 01:37:24
Resolution: 608x432 (1.41:1)
Bitrate: 1027 kb/s
FPS: 23.976
Qf: 0.163 bits/pixel
Audio: English. No sub.
112 kb/s (56/ch, stereo) CBR MP3
Show your appreciation and seed.
Visit us at:
http://www.h33t.com/