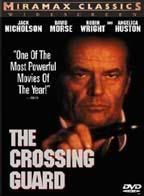 http://www.imdb.com/title/tt0112744/
The Crossing Guard (1995)
Director:
Sean Penn
Cast:
Jack Nicholson;
Angelica Huston;
David Morse;
Robin Wright;
Robbie Robertson
Rated R sexual situations, nudity, profanity and violence
SYNOPSIS
Ever since the day a drunk driver killed Freddy's Gale's 7-year-old daughter, Gale has been consumed with grief and revenge. So, shortly after the driver, John Booth, is released from prison, Gale attempts to murder him. He fails in this task, but informs Booth that he will certainly return in three days to complete the job.
During this period, however, Gale grows ever more emotionally erratic. He finally realizes he must confront his many demons... before his downward spiral results in the death of others.
REVIEWER
To lose a child is perhaps the greatest tragedy any person can endure. When something like that happens because of a drunk driver, it raises a specter of impotent fury that no dose of reason can ever dispel. In Sean Penn's The Crossing Guard, a flawed but thought-provoking motion picture, Jack Nicholson's Freddy Gale has opened his arms to the embrace of anguish and hatred. Nothing -- not the pleas of his ex-wife Mary (Angelica Huston) or the excesses of drink and sex to which he succumbs -- allows him to forget, or, more importantly, forgive.
The problem with The Crossing Guard is not the premise or core theme, but the manner in which director Sean Penn breathes life into the story. This film is horribly unfocused. Significant chunks of screen time are devoted to unrelated, superfluous, and cryptic sequences. Many apparently have been included for the purpose of enhanced characterization, but, since basic character development is handled effectively early in the movie, much of this material is redundant. How many times do we have to be reminded that Freddy is on the edge? How often must John Booth, the drunk driver who killed Freddy's daughter, wrestle with his guilt?
The Crossing Guard opens on the day John (David Morse) is released from prison after serving a five-year sentence for manslaughter. While his ordeal behind bars hasn't broken him, the knowledge of his crime weighs down his conscience like an anchor -- so much so that a potential girlfriend (Robin Wright) tells him she can't compete with his guilt. As John, Morse gives a powerful, contained performance that is all the more effective because it is so controlled. Despite what he did, we feel for him.
Nicholson, on the other hand, is uneven playing a father who is self-destructing under the pressure of his grief. The death of his daughter Emily ruined Freddy's life, and, in his opinion, a prison term was too mild a penalty for John. Freddy intends to repay the drunk driver with a calculated, cold-blooded murder. Much of Nicholson's portrayal involves over-the-top ranting (the actor's usual shtick), which becomes tiresome. Fortunately, there are scenes where he is restrained, and there's a palpable tension to those moments.
When Penn hits the right tone, his direction shows undeniable power. The Crossing Guard contains several noteworthy scenes. One, which illustrates the potency of Freddy's bereavement better than all of Nicholson's ravings, has Freddy silently watching a loving father and daughter hug. Another has John visiting the grave of his victim. A third takes place in a coffee shop, where Freddy and Mary perform an autopsy of their marriage. Then there's John's description of what it was like to watch Emily die. Had all of The Crossing Guard been put together with such deft skill, this could have been an amazing motion picture. Alas, what's on-screen too often devolves into ineffective melodrama.
With strippers dressed as little girls, a father's unquenchable grief, and a climax that brings the situation to an emotional crescendo, comparisons between The Crossing Guard and Atom Egoyan's Exotica are inevitable. In any such point-by-point study, however, Sean Penn's film, with its spotty treatment of powerful emotional topics, does not fare favorably. On balance, The Crossing Guard succeeds more often than not.
Codec: Xvid
Size: 908MB
Runtime: 01:50:50
Resolution: 592x432 (1.37:1)
Bitrate: 1012 kb/s
FPS: 23.976
Qf: 0.165 bits/pixel
Audio: English. No sub.
128 kb/s (64/ch, stereo) CBR MP3
Show your appreciation by seeding.
Visit us http://www.h33t.com/