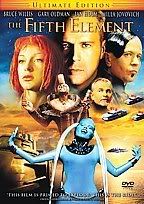 http://www.imdb.com/title/tt0119116/
The Fifth Element (1997)
Directed by Luc Besson
Written by Luc Besson & Robert Mark Kamen
Starring Bruce Willis,
Gary Oldman,
Milla Jovovich,
Chris Tucker,
Ian Holm
Rated PG-13
2 hrs 6 mins
Sci Fi
Action
On DVD 04-25-2006
SYNOPSIS
A visual feast combining ancient mysticism, cyberpunk sensibilities, flamboyant entertainment personalities, and gun-toting alien mercenaries. In the 23rd century, Korben Dallas (Bruce Willis), an ex-special forces agent who now practices as a down-and-out cabbie, finds himself caught in a struggle to defy a prophesied Evil from destroying the Earth when a mysterious woman (Milla Jovovich) falls into the back seat of his cab. Pursued by both the government and a powerful magnate enlisted by the forces of Evil (Gary Oldman), the woman is the key to Earth\'s salvation, known only as the Fifth Element. This was French auteur Besson\'s first offering with Hollywood backing. Academy Award Nomination: Best Sound Effects Editing.
REVIEW
This gonzo sci-fi outing, set in 2259, proves to be a messy amalgam - a motion picture with the body of a mainstream blockbuster but the spirit of a trendy cult flick. And yet, for all its narrative incoherencies, visual excesses and shifting moods (it whiplashes between drama and comedy with light-speed abandon), the movie works. The plot - initially incomprehensible, but easier to figure out once it gets rolling - posits that only an alien known as Leeloo (Milla Jovovich in the film\'s most affecting performance) has the power to save our world from being destroyed by an approaching fireball of pure evil. The insane Zorg (a weak Gary Oldman) opposes her at every turn, but she receives invaluable assistance from Korben Dallas (Bruce Willis, appropriately gruff), a former government agent who now works as a New York cab driver. It\'s not exactly a revelation to discover that then-37-year-old writer-director Luc Besson (La Femme Nikita) came up with the idea for The Fifth Element when he was 16: Few creatures on this planet are as familiar with the principles of the science fiction form as teenage boys with overactive imaginations. Besides, it helps us understand why, in the movie, the only being with the power to save the planet is a lithe model whose wardrobe chiefly consists of strategically placed strips of masking tape. The Fifth Element has long been available in a bare-bones DVD, but this is the real thing: a two-disc set that\'s being billed as the \"Ultimate Edition.\" The picture and sound quality are superb, and extras include a trivia track, screen tests, various making-of pieces and several short features devoted to the memorable blue-skinned diva.
THE FIFTH ELEMENT is not an acquired taste. You are either going to love or hate it from the get-go. Yes, on many levels it\'s silly and crappy. But on many others, it\'s just witty, whimsical, and balls-out crazy enough to work. It comes up shy of a five star rating . . . but just.
Codec: Xvid
Size: 980MB
Runtime: 02:06:17
Resolution: 656x368 (1.78:1)
Bitrate: 968 kb/s
FPS: 23.976
Qf: 0.167 bits/pixel
Audio: English. No sub.
112 kb/s (56/ch, stereo) CBR MP3
Show your appreciation and seed.
Visit us:
http://www.h33t.com/